Sweetness in the Belly, Pompei land TIFF debuts
Both copros will make their world premieres in the festival's Discovery section.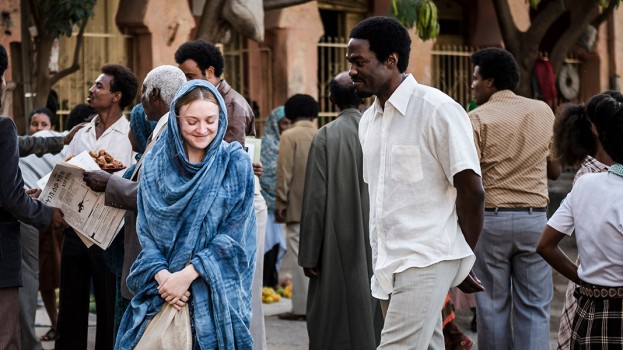 The Toronto International Film Festival (TIFF) has added a pair of Canadian copros to its Discovery section, with Zeresenay Berhane Mehari's Sweetness in the Belly and Anna Falguères and John Shank's Pompéi set to make their world debuts.
Landing in the revamped program, which now focuses on world premieres exclusively, the festival also announced its full lineup for its Midnight Madness, Cinematheque and Docs programs today (Aug. 8).
Produced by Toronto's Sienna Films and Dublin- and London-based Parallel Films, Sweetness in the Belly (Canada/Ireland, pictured) sees Dakota Fanning play a woman orphaned as a child in Africa, who escapes to England as a refugee. While in this new country, she attempts to reunite people with their lost and scattered families. Based on Camilla Gibb's novel of the same name, Laura Phillips penned the project.
Meanwhile, Pompéi (Belgium/Canada/France) follows Victor (played by Aliocha Schneider) and his little brother, who are left to fend for themselves in a desert region as part of a community of vagrant children. The drama from Belgium's Tarantula Belgique, France's Good Fortune Films and Montreal's Micro_scope includes Vincent Rottiers, Garance Marillier and Judith Williquet among its cast.
In addition to both nabbing world premieres at TIFF, both projects also previously netted Eurimages coin – with Sweetness in the Belly receiving around $717,000 (€480,000) in funding back in October 2017 and Pompéi scoring $610,052 (€380,000) from the fund last March.
This year's Discovery program features 33 world premieres, opening with Chiara Malta's Simple Women (Italy/Romania). Other international projects set to make their world debut include: Oualid Mouaness' 1982 (U.S./Lebanon/Norway/ Qatar), Oren Gerner's Africa (Israel), Orçun Behram's The Antenna ("Bina," Turkey), Ina Weisse's The Audition ("Das Vorspiel," Germany/France), Armando Capó′s August ("Agosto," Cuba/Costa Roca/France), Kim Seung-woo's Bring Me Home ("Na-reul cha-ja-jwo," South Korea), Nick Rowland's Calm With Horses (U.K./Ireland), Hisham Saqr's Certified Mall ("Bi Elm El Wossul," Egypt), Tamar Shavgulidze's Comets (Georgia), Minos Nikolakakis' Entwined (Greece), David Raboy's The Giant (U.S.), Ana Garcia Blaya's The Good Intentions ("Las Buenas Intenciones," Argentina), Maria Sødahl's Hope ("Håp," Norway/Sweden), Maria Paz Gonzáles's Lina from Lima (Chile/Argentina/Peru), and more.
Previously announced Canadian titles set for the program include: Nicole Dorsey's Black Conflux; Sanja Zivkovic's Easy Land; Myriam Verreault's Kuessipan; Heather Young's Murmur; Harry Cepka's Raf (Canada/U.S.); and Aisling Chin-Yee's feature directorial debut, The Rest of Us. All of these films will make their world premiere at the fest.
Elsewhere, in the Docs section, Feras Fayyad's The Cave (Syria/Denmark/Germany/U.S./Qatar) will serve as the program's opening film. And in Midnight Madness – where Jeff Barnaby's Blood Quantum will serve as the opening film for the lineup  – Isaac Nabwana's Crazy World (Uganda) will close out the category.
TIFF runs from Sept. 5 to 15, 2019.
Image of Sweetness in the Belly courtesy of TIFF