Cameras roll on Miryam Bouchard's Mon cirque a moi
The Attraction Images-produced feature stars Patrick Huard, Robin Aubert and Sophie Lorain.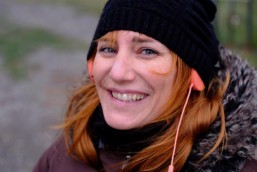 Production is underway in Montreal on Miryam Bouchard's debut feature film, Mon cirque à moi.
Co-written by the director (pictured) and Martin Forget, the film tells the story of a young girl (played by Jasmine Lemée) who lives with her father (Patrick Huard) – a clown – and Mandeep (Robin Aubert) – his stage technician – mostly on tour. Working with her high school teacher (Sophie Lorain), the girl tries to fulfill her dream of living a more simple life.
Bouchard, whose directing credits include shows like Mon ex a moi and L'Echappee, is set to direct Mon cirque à moi. Produced by Attraction Images, the film will shoot in Montreal and the surrounding area over the next three weeks.
Attraction president and executive producer Marleen Beaulieu serves as an executive producer alongside founder and president Richard Speer. Attraction's Antonello Cozzolino, whose credits include Mafia Inc. and Le Siege, is also a producer on the film.
In addition to Lemée, Huard, Aubert and Lorain, Mon cirque à moi stars Jean Lapointe, Louise Latraverse, Geneviève Schmidt, Isabelle Brouillette and Mathilde Boucher. Last year, the project picked up funding from SODEC's film production assistance program. Les Films Seville is set to distribute.
Image of Miryam Bouchard courtesy of Attraction Images and Les Films Seville