Uninterrupted to build on Canada's growing sports obsession
Chief content officer Vinay Virmani shares the digital sports brand's content strategy and its plans to mentor young local filmmakers.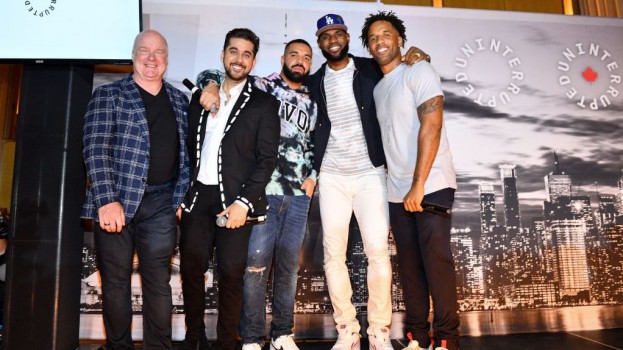 It's never been a better time to be a Canadian sports fan. At least, that's what the team behind the athletic content brand Uninterrupted is banking on.
Former Sportsnet president Scott Moore and First Take Entertainment producer Vinay Virmani announced last week they would lead a Canadian division of the L.A.-based brand founded by NBA All-Star LeBron James and his business partner Maverick Carter, with Toronto-based rapper Drake signed on as a brand partner.
The digital media brand creates long- and short-form unscripted content created by athletes, targeting casual and hardcore sports fans. "Uninterrupted is a bit of a disruptor in the marketplace, in the greatest way possible," Virmani told Playback Daily.
The company first launched in L.A. on Dec. 25, 2014, beginning as a confessional for athletes, with video diaries filmed from players' handheld devices. Within a year, James and Carter had inked a USD $15.8 million deal with Warner Bros. Entertainment and Turner Sports to produce higher quality content. Uninterrupted would go on to premiere feature-length documentary The Carter Effect at the Toronto International Film Festival in 2017. 

Virmani, who serves as chief content officer, says the Canadian launch is driven by the passion of Canadian sports fans and the diverse range of athletes north of the border. Canada's love for basketball hit a fever pitch this spring when the Toronto Raptors clinched the 2019 NBA championship and turned players like Kawhi Leonard and Danny Green into national heroes.
Raptors player Serge Ibaka is among the first athletes to ink a content deal with Uninterrupted and Virmani says the brand is actively working on recruiting hockey players to draw in even more Canadian viewers. While content development is still in early stages, he says it will be focused on charitable, social and cultural topics relating to athletes.
Moore, who leads the brand as CEO, recruited Virmani to Uninterrupted Canada at the end of 2018, shortly after Moore departed Rogers and Sportsnet. Virmani says Moore was in talks with James at the time about bringing the brand to Canada. They were looking for a partner who had a strong grasp of narrative content, as well as production and distribution experience, and could have a rapport with the athletes to "ease the transition" into content creation. He says a key incentive to join the brand is that it puts "athletes in the driver's seat as content creators."
Joining Uninterrupted Canada was a "natural progression" in his career, according to Virmani, who says that in today's content atmosphere "diversification is so important."
Uninterrupted Canada is already working on its first unscripted series as part of a development deal with Toronto's Shopify Studios, which launched earlier this year to produce short- and mid-form content to promote entrepreneurship for the e-commerce site. The series will follow entrepreneurial athletes and explore how they were able to launch their own businesses.
Virmani says the brand is also looking to empower young filmmakers just as much as Canada's athletes. Uninterrupted Canada wants young creators who "feel alienated from film and TV world" to pitch for the brand. Virmani says they'll also be working with non-profit organizations such as U for Change to give writing, editing and directing opportunities to young artists. "Part of my role is to mentor and work with them, help them curate content and refine their craft," he says.
Image courtesy George Pimental, (L-R): Scott Moore, Vinay Virmani, Drake, LeBron James and Maverick Carter