How Another Life fills a new space for Netflix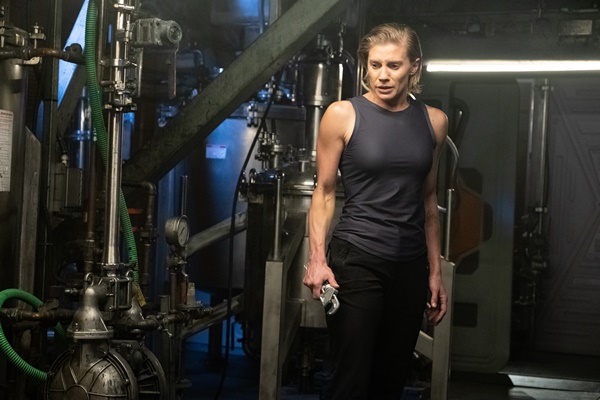 Executive producers behind the sci-fi series starring Katee Sackhoff discuss the show's atypical development process.
Halfire Entertainment's second collaboration with Netflix, Another Life, doesn't fit into the traditional development mould.
A partner-managed project produced by the Toronto-based prodco, the 10-episode drama follows Battlestar Galactica actor Katee Sackhoff's character Niko Breckinridge, an astronaut who leads a mission to investigate the origin of an alien artifact. ("Partner-managed" is a term used by Netflix to describe projects that are 100% Netflix-funded and rights-controlled, with prodcos being incentivized to be on time and on budget).
The wheels started turning on the project when Netflix director of scripted co-license and original TV Chris Regina joined the streamer in November 2017. "[Another Life] started as an idea that we were kicking around internally," Regina told Playback Daily ahead of the hybrid Earth-space show's premiere last week. Mixing this idea with his connection to Sackhoff's manager, Regina then brought the project to Halfire CEO Noreen Halpern, with whom he had previously collaborated on the Vancouver-shot sci-fi drama Aftermath (Space/Syfy).
"[Chris is] able to come to creators and say, 'I feel like we're missing this in our space' and create that jumping-off point of something that he feels is going to work for Netflix," Halpern says.
Things move quickly in Regina's world, and within the span of a couple weeks Aaron Martin, who started talking to Halpern about the project in November, boarded the project as showrunner. Martin was tasked with taking key elements, such as a character tailored to Sackhoff and a compelling storyline on Earth, to create the series. With shaping Another Life, Martin says he focused in on Breckinridge's role both as a mother and someone who has to leave her family behind to save the planet. "That became the thematic core for the show and that's what we've just been building off of in the writing room ever since," he says. From there, Martin, Halpern and Sackhoff pitched the project to Netflix in December, receiving a straight-to-series order the next day.
In addition to the pitch, Sackhoff's point of view extended to the project's writers room, with Martin noting that Sackhoff took a hands-on role in shaping her character. "One of the most amazing things [about working with her in the writers' room] was, we had this whole plotline with Niko, and she turned to us and she said 'shouldn't that be for somebody else?'" Martin said. "It's like – you're an actor who's giving your plot away to somebody else – I've never heard of that." Additionally, following fellow actor Selma Blair's multiple sclerosis diagnosis, Martin says the team incorporated her condition into her character's arc.
Thinking about his overall goal for the series, Netflix exec Regina says he wanted to shape Another Life into a sci-fi show with broad appeal. "We looked at a lot of the attributes that I thought we could inject into the show to make it more accessible to a general audience beyond just a general sci-fi fanbase," he says, citing elements like younger crew members, relationship-driven plots, not a lot of "tech speak" and characters without military uniforms. "It really just drills down more on the heart and relationships that take place over the evolution of this event and contact with alien life," he says.
Looking forward, Halpern says her prodco has just started working with Netflix on its third venture together, another partner-managed project. "Some of the shows that Halfire develops we own, and some of them we don't," she says, noting that what continues to drive her and Halfire is the need to figure out a way to work within this new television landscape, while creating interesting TV with creatives and buyers.
Executive producers on Another Life include Martin, Halpern and Regina. The series is produced by Justis Greene, while Sackhoff serves as a producer. Suzanne Berger is the show's supervising producer and Stephanie Fontana is a co-producer. Alex Levine, Sean Reycraft and Omar Madha serve as co-exec producers. Jadene Stojak Babcock is an associate producer and Lucie Page is coordinating producer.
Image of Another Life, courtesy of Netflix