David Foster: Off the Record to world premiere at TIFF '19
Unveiled earlier this month, the documentary offers a behind-the-scenes look at the 16-time Grammy Award-winner's career, and what's next.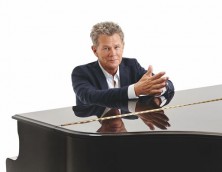 Director Barry Avrich's latest documentary – David Foster: Off the Record – has been tapped to make its world bow at this year's Toronto International Film Festival (TIFF).
Unveiled earlier this month, the feature-length project from Bell Media Studios and Avrich's Melbar Entertainment Group offers a closer look at the Canadian composer, producer and entertainer's career, charting it to date through archival footage and interviews. David Foster: Off the Record features interviews with Céline Dion, Quincy Jones, Lionel Richie, Michael Bublé, Josh Groban, Kristin Chenoweth, and more. Last year's TIFF saw Avrich's Prosecuting Evil: The Extraordinary World of Ben Ferencz world premiere in the festival's TIFF Docs section.
In a previous interview about David Foster: Off the Record, Avrich, who also serves as an executive producer, told Playback Daily that the idea for the project came about three years ago, when both Jeffrey Latimer and Bell Media president Randy Lennox suggested that Foster (pictured, right) would make an interesting documentary subject. From there, production started on the project in 2017.
Following the film's premiere, TIFF will hold a special tribute to the 16-time Grammy Award-winner at the TIFF Tribute Gala, an annual awards fundraiser to support the organization's year-round activities and mission.
Executive producers on the project include Avrich, Lennox, Latimer and Marc Johnston. David Foster: Off the Record is produced by Lennox, Avrich and Caitlin Cheddie.
This announcement follows the news that Crave original documentary Once Were Brothers: Robbie Robertson and The Band will open TIFF – the first time a Canadian-made feature has served as the festival's opening night film. A collaboration between L.A.-based Imagine Documentaries, White Pine Pictures, Bell Media Studios and Universal Music Canada's Shed Creative, the documentary from director Daniel Roher tracks the life of Robbie Robertson and the Canadian roots rock group The Band.
TIFF runs from September 5 to 15, 2019.