'We Will Stand Up' wins audience award at Gimli film fest
Carole Vivier and Wendy Crewson were among the special honourees at the Manitoba film festival this year.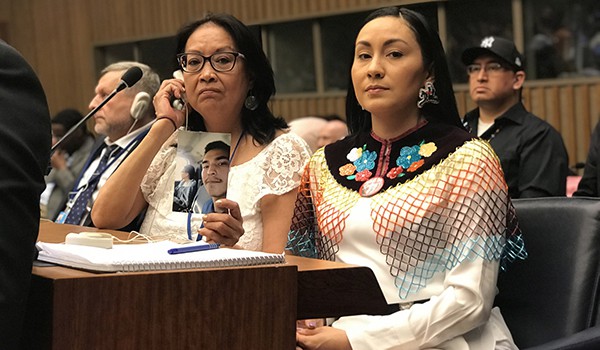 Tasha Hubbard's documentary nîpawistamâsowin: We Will Stand Up (pictured) took home the Audience Choice Award at the Gimli Film Festival in Winnipeg.
The doc has picked up a number of awards since its world premiere at this year's Hot Docs, including Hot Docs' award for Canadian feature documentary and the Colin Low Award for Canadian Documentary at DOXA.
Carole Vivier was also honoured at the festival this year with the Jack Clements' "Livin' the Dream" Award for her work as CEO and film commissioner of Manitoba Film and Music, and her long-standing impact on the province's film industry.
Wendy Crewson also received a special honour with the Alda Award, which recognizes "an outstanding filmmaker or actor from the circumpolar nations."
The festival handed out three new awards this year to recognize local talent. Best Canadian Feature Film was given to Sean Devlin's When the Storm Fades. Filmmaker Charlene Moore picked up APTN's Indigenous Spirit award for her short film When the Children Left, which also won the audience award for Best Manitoba Short Film. A special jury prize for best Manitoba short went to Anita Lebeau for her short film Face | Time.
The Best Manitoban Director, presented by the Directors Guild of Canada, went to Mike Maryniuk for his film The Goose, while ACTRA Manitoba gave performance awards to Adam Brooks, Matthew Kennedy and Connor Sweeney for the short Chowboys: An American Folk Tale, and Nancy Sorel for the short Platypus.
Matthew van Ginkel was named the winner of the RBC Emerging Filmmaker Pitch Competition, earning the prize for First Session. The award includes $10,000 to film the short, $5,000 worth of equipment rental from William F. White International and a year-long mentorship from the National Screen Institute.
The Gimli Film Festival ran from July 24 to 28.