New Metric Media to develop comedy for Bell Media
Children Ruin Everything is created by Kurt Smeaton, with Arrested Development writer Chuck Tatham (pictured) attached as executive producer.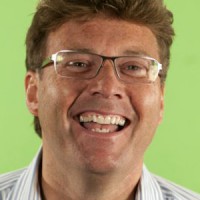 New Metric Media and Bell Media are in development on a new comedy series by Canadian writer Kurt Smeaton.
The series, titled Children Ruin Everything, follows parents Astrid and James who struggle to balance their identity from before and after having children. Arrested Development and Modern Family writer Chuck Tatham serves as executive producer, alongside Smeaton and New Metric Media president Mark Montefiore.
Smeaton's previous credits include Kim's Convenience, The Beaverton and Cavendish. "Kurt has done an amazing job in creating this tongue-in-cheek comedy where much of its humour is derived from the difficulties and reality of balancing kids and life," said Montefiore in a statement.
New Metric Media is currently expanding its original development slate as it opens a second office in L.A. The company has optioned the rights to a number of IP, including Monster City by criminologist Dr. Michael Arntfield, Nobody Cares by Anne T. Donahue and Toronto Star reporter Peter Edwards' collection of novels.