In Brief: Buck's Boundless set to fly in August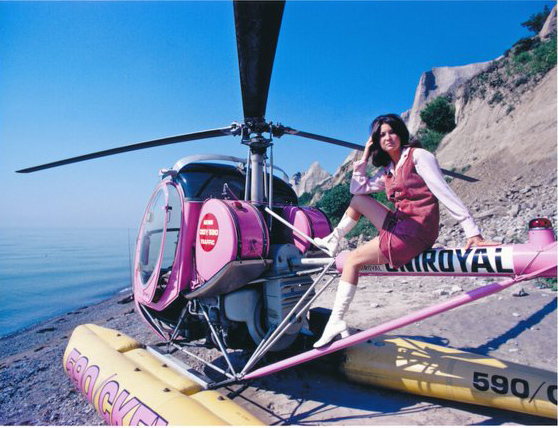 Plus: Designated Survivor ends after three seasons, Sonar Entertainment hires new scripted head and Nelvana grows its global YouTube reach.
By Lauren Malyk and Kelly Townsend
Boundless set to go into production in August
Kate Campbell and Buck Productions have set the production date for their upcoming collaboration, short film Boundless starring Dini Petty (pictured). First announced in 2017, the 17-minute short follows follows the unsung story of Canadian and American female Second World War pilots, with Petty playing a retired flyer reminiscing back on her life and the moments that defined her career. Petty has a long-standing history in Canadian broadcasting with The Dini Petty Show, CityPulse and CityLine. Additionally, in the 1970s, she was the first female in the world to pilot a helicopter while simultaneously broadcasting traffic reports for a radio station.
Boundless is inspired by creator, writer and director Campbell's grandmother, who was a member of the Ninety-Nines, an international organization of female pilots that was founded by Amelia Earhart, Fay Gillis Wells and Ila Loetscher. The production is set to shoot next month in Guelph, ON. In addition to Campbell, producers on the project include Buck Productions' Sean Buckley and Emma Fleury. The film received funding from the Haliburton County Development Corporation and private donations and recently launched an IndieGoGo campaign.
Netflix cancels Designated Survivor
In a statement to Playback Daily, Netflix confirmed that Designated Survivor will not return for a fourth season. Produced by eOne, the series followed Kiefer Sutherland as a low-level cabinet member elevated to president after an attack claims the lives of the majority of the government. Following the show's two-season run on ABC, Netflix saved it, renewing the drama for a 10-episode third season. Designated Survivor's most recent episodes debuted on the streamer this June.
"We are proud to have offered fans a third season of Designated Survivor, and will continue to carry all three seasons for years to come," Netflix said, also thanking the executive producers, cast and crew behind the political thriller. Executive producers on the show include Sutherland, creator David Guggenheim, showrunner Neal Baer, Mark Gordon, Suzan Bymel, Simon Kinberg, Aditya Sood and Peter Noah. In May, eOne announced Designated Survivor: 60 Days, a Korean adaptation of the English-language thriller with South Korea-headquartered prodco Studio Dragon Corporation.
Sonar taps former BBC Studios exec to lead scripted content
U.S. production company Sonar Entertainment has hired new leads for its scripted and corporate strategy teams. Matt Loze will head up Sonar's scripted division as EVP, development and production, overseeing the company's current production and development slate, as well as first-look deals. He previously led scripted entertainment at BBC Studios. Packman, who previously worked as a senior executive at Metro-Goldwyn-Mayer, will serve as senior EVP, chief strategy officer, general counsel and head of business affairs.
Sonar has produced a number of Canadian series, including the upcoming CBC Gem original Utopia Falls and HGTV Canada's Farmhouse Facelift. The company acquired Tricon Film and Television's content library in 2017.
Nelvana launches Mandarin YouTube channel
Corus Entertainment's Nelvana is going global with its new YouTube channel Red Bear Animation. The channel features a number of the company's shows – including The Backyardigans, Mysticons, Super BOOMi and My Friend Rabbit – in Mandarin. The Red Bear Animation channel will roll out new episodes several times a week. Content from additional shows, including Franklin, Babar and Ranger Rob, will be available later this year. Nelvana head Pam Westman says the company is "confident" this launch will help grow its YouTube audience and follow in the footsteps of its other popular YouTube channels, Treehouse Direct Español and Treehouse Direct Brasil. Each boast more than one million subscribers.
With files from Kidscreen