Guest of Honour, Delphine tapped for Venice '19
Egoyan's 16th dramatic feature will screen in competition, while director Chloe Robichaud's short is part of the festival's Orizzonti Short Films Competition.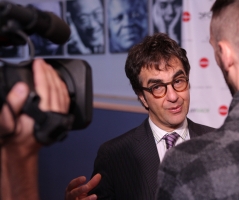 Atom Egoyan's Guest of Honour and director Chloé Robichaud's Delphine are among the Canadian selections set for this year's Venice International Film Festival.
Produced by The Film Farm and Egoyan's Ego Film Arts banner, Guest of Honour will compete in the festival's competition lineup. Written and directed by Egoyan (pictured), the project marks his 16th dramatic feature and follows Jim, a food inspector, and his daughter Veronica, a high school teacher who is accused of abusing her position of authority with a student. Production on the project started last November in Toronto. Films in the Venezia 76 Competition lineup are presented as world premieres.
Additionally, earlier this week, the Toronto International Film Festival announced that Guest of Honour will make its North American premiere in its special presentations section this September. The film stars David Thewlis, Laysla De Oliveira, Luke Wilson and Rossif Sutherland.
Robichaud's short film Delphine, written by Nathalie Doummar, will world premiere as part of Venice's Orizzonti Short Films Competition. The Orizzonti category is dedicated to films that represent the latest in trends and aesthetics in international cinema. In addition to Delphine, Robichaud's credits include Boundaries (2016) and most recently, Street Legal (2019). The short's cast includes Daria Oleil-Sabbagh, Ines Feghouli, Ambre Jabrane and Wiam Mohktari.
Meanwhile, in the Venice Virtual Reality's Competition – Interactive director Gabo Arora's These Sleepless Nights (Canada/U.S.) and Ollie Rankin's Downloaded (Canada) will be presented. Travelling While Black (Canada/U.S.) from directors Roger Ross Williams, Ayesha Nadarajah, Felix Lajeunesse and Paul Raphaël is also set for the Best of VR – Out of Competition category. Additionally, the Venice Classics lineup, which was announced yesterday (July 24), will screen restorations of classic films like David Cronenberg's Crash (1996) and director Dennis Hopper's Out Of the Blue (1980, Canada/U.S.).