In brief: BTLR panel member resigns
Plus: CMF launches new codevelopment fund, eOne ups its presence in Asia and The Amazing Race Canada sees a ratings uptick in season seven.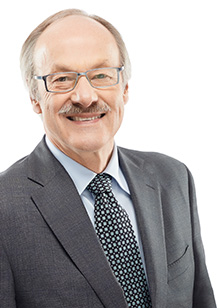 Lawyer Hank Intven leaves BTLR panel
Hank Intven (pictured) has resigned from the Broadcasting and Telecommunications Legislative Review (BTLR) panel. The Lawyer and telecommunications professor left the panel as of June 28. The timeline for the review is "unaffected," according to a statement from the panel, saying they "continue to work on delivering our final report and recommendations by January 2020." An additional statement from Innovation, Science and Economic Development Canada confirms Intven's resignation and says the government will "ensure that the panelists have all the resources they need to continue working on delivering a high-quality final report." The remaining panel members are Peter Grant, Marina Pavlović, Monique Simard, Monica Song, Pierre Trudel and chair Janet Yale.
The panel released its What We Heard Report last month. The majority of interested parties voiced their recommendation for regulatory and legislative changes to ensure foreign digital platforms and Internet Service Providers (ISPs) help fund Canadian content. Minister of Canadian Heritage Pablo Rodriguez released a statement following the release of the report, vowing to take "appropriate measures" to ensure all players in the industry, including "web giants," will contribute to the creation and promotion of Cancon.
Canada, Argentina open incentive for animated, digital copro projects
The Canada Media Fund (CMF) and Argentina's Institute of Cinema and Audiovisual Arts have launched an incentive for animated and digital media codevelopments between the two countries. The incentive's total budget is more than $130,000, with a maximum contribution of $32,000 for each project. All animated television series must meet the CMF's criteria for drama, documentary or children and youth programming. Digital media content projects eligible for funding include webseries, transmedia projects, as well as VR or AR content. Submissions to the incentive are now open until Oct. 31, 2019. Last month the CMF established a $400,000 incentive with the Broadcasting Authority of Ireland (BAI) and Northern Ireland Screen (NIS).
The Amazing Race Canada gets a ratings boost for its season seven premiere
The season seven premiere of The Amazing Race Canada brought in two million viewers, according to Numeris. That is a 15% increase from the season six premiere, according to a release from Bell Media. The series also saw double-digit growth in key age demos. The 18 to 34 demo saw an increase of 29%, followed by the 18 to 49 and 25 to 54 demos at 18% each. The Amazing Race Canada is produced by Insight Productions. John Brunton and Mark Lysakowski are executive producers, with Lysakowski serving as showrunner.
eOne expands its market reach in Asia
Entertainment One has hired Alex Oe to oversee film, TV sales in Japan, Korea and Pan-Asia markets. As director of sales, Japan, Korea and Pan-Asia, international distribution, Oe will lead sales of eOne film and TV properties to the region for linear and non-linear platforms. The role is based on Seoul and reports to Joyce Yeung, EVP, sales – APAC, international distribution. Oe previously served as VP of Asia distribution at Legendary Television, selling titles such as Dead Rising, Colony and the Toronto-shot genre series The Expanse. eOne recently inked a deal with Studio Dragon Corporation to coproduce a Korean remake of the political drama Designated Survivor, with eOne handling worldwide sales outside of Korea.