WFF taps Angela Heck as director of industry programming
The industry veteran will oversee the festival's industry and talent programs, including its Signature Series and Content Summit.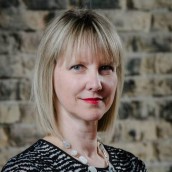 The Whistler Film Festival Society (WFF) has appointed industry veteran Angela Heck as its director of industry programming.
With over 20 years of experience in content production and communications, Heck (pictured right) will oversee WFF's slate of 11 talent programs and industry programming, including its four-day Content Summit, which features interactive business sessions and networking events examining the fields of art, tech and commerce for creatives, and its Signature Series, an honour that sees some of the industry's top talent partake in intimate on-stage interviews and a presentation of their most recent work at the festival. The role was formerly held by Julie Di Cresce, who left the post earlier this year.
Prior to this, Heck worked for the National Screen Institute. She joined the not-for-profit in 2015 in the newly created position of manager, digital programs and was later appointed its director of digital programming and strategic initiatives in 2016. In addition to serving on numerous juries and advisory boards, she recently produced two digital shorts by filmmaker Madison Thomas for CBC Docs and the coventure Soul of the Sea (Blue Ant Media).
The producer is also no stranger to WFF as she served as its industry program manager from 2008 to 2010, while her debut feature In The Shadow of the Chief previously took home WFF's People's Choice Award in 2003.
Meanwhile, the festival has also hired Garrett Rodman (pictured left) as its development manager – a role that will see the former TIFF and Banff Centre executive open WFF's new Vancouver office and manage all fundraising, corporate giving and funding activities related to the festival's annual programs.
Rodman's past roles include working as manager of membership and manager of government relations for TIFF; as a development officer for the Banff Centre for Arts and Creativity; and most recently as interim executive director for the London Heritage Council.
Both roles will support the festival as it returns for its 19th edition on December 4 to 8, 2019.
Images of Angela Heck and Garrett Rodman courtesy of the WFF