TIFF '19: Crave original Once Were Brothers to open the festival
The Daniel Roher-directed project becomes the first Canadian documentary to open TIFF in its 44-year history.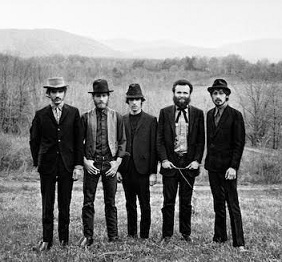 Crave original documentary Once Were Brothers: Robbie Robertson and The Band is set to open the 44th edition of the Toronto International Film Festival (TIFF).
The music doc, which charts the young life of Robbie Robertson and the creation of iconic Canadian roots rock group The Band, makes festival history by becoming the first Canadian documentary to serve as the Opening Night Gala Presentation. It world premieres on Sept. 5.
Directed by Daniel Roher (Ghosts of Our Forest), the film is inspired by Robertson's 2016 memoir Testimony and features archival footage and interviews with collaborators and friends such as Martin Scorsese (who also serves as an executive producer), Bruce Springsteen, Eric Clapton, Van Morrison, Peter Gabriel, Taj Mahal, Dominique Robertson and Ronnie Hawkins.
This marks the first year where co-heads Cameron Bailey and Joana Vicente have jointly taken the reins of TIFF. While Bailey was promoted to co-head before last year's festival, 2019 marks Vicente's first year in the joint role following the departure of long-time director and CEO Piers Handling.
"In our first year as TIFF's co-heads, Joana and I are thrilled to open the festival with a Canadian story that speaks to the world," said Bailey in a statement.
The multi-partner project, first unveiled in May, is a collaboration between L.A.-based Imagine Documentaries, White Pine Pictures, Bell Media Studios and Universal Music Canada's Shed Creative. It's executive produced by Scorsese, Imagine Entertainment chairmen Brian Grazer and Ron Howard, Justin Wilkes and Sara Bernstein for Imagine Documentaries; White Pines Pictures' president Peter Raymont and COO Steve Ord; Bell Media president, Randy Lennox; Jared Levine; Michael Levine; Universal Music Canada president and CEO Jeffrey Remedios; and Shed Creative's managing director Dave Harris.
It is set to be released both theatrically and on Bell Media's Crave SVOD later in the year.
Once Were Brothers is the first Canadian feature to nab TIFF's prestigious opening-night gala slot since 2010. Until around a decade ago, Canadian features regularly opened the festival, with world premieres for Deepha Mehta's Water (Canada, U.S., India, 2005), Zacharias Kunuk and Norman Cohn's The Journals of Knud Rasmussen (Canada/Denmark, 2006), Jeremy Podeswa's Fugitive Pieces (Canada/Greece, 2007), Paul Gross' Passchendaele (Canada, 2008) and Michael McGowan's Score: A Hockey Musical (Canada, 2010).
More recently, international films have been selected to open the festival, with Netflix's Outlaw King (U.K., U.S.) opening the event last year. In the years before that, the opening night gala slot went to Borg/McEnroe (Sweden, Denmark, Finland, 2017), The Magnificent Seven (U.S., 2016), Demolition (U.S., 2015), The Judge (U.S., 2014) and The Fifth Estate (U.S., India, 2013).
This year's festival runs from Sept. 5 to 15, 2019.