How Vanessa Piazza keeps her shingle steady
The producer discusses her development slate, including projects with Bell Media and Corus, and how she's building out her prodco with the help of her eOne partnership.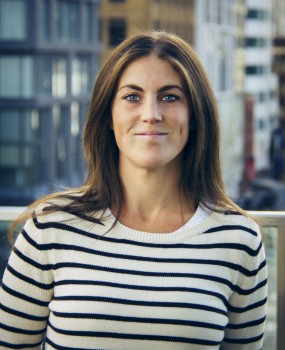 It's not an easy task to launch your own production company, but Vanessa Piazza (pictured) has found that a supportive development partner and a creator-friendly model have provided a solid foundation from which to build a sustainable business.
It's been more than 18 months since the Lost Girl and Dark Matter producer unveiled her new prodco Piazza Entertainment, along with a producing partnership deal with indie giant Entertainment One (eOne). Things haven't slowed down in the time since, with 10 projects in active development and an executive producer credit on medical drama Nurses (eOne, ICF Films, in association with Piazza Entertainment). The 10 x 60-minute project just wrapped production in Toronto and is set to premiere on Global in 2020.
Piazza told Playback Daily her business mandate revolves around creating a creatively safe environment for writers to pitch and fostering new, diverse voices. The deal, which gives eOne first-look option rights to all of her projects, was partially a result of that philosophy. Jocelyn Hamilton, the president of eOne's Canadian television division, first approached Piazza about striking the deal as part of the company's launch. Piazza says the deal was mutually beneficial, with eOne able to access a growing portfolio of Canadian writers with which Piazza has connections, and Piazza landing a powerful producing ally out of the gate.
"We're always looking to partner with people who have great taste in content and who have new paths for finding talent," Hamilton told Playback Daily, adding that Piazza's content slate serves as a nice complement to eOne's Canadian slate.
When it comes to the projects she chooses, Piazza says she is always looking for diverse stories and voices from the next generation of writers, but also what inspires her creatively. "I think we have to set what the market wants, in a way," says Piazza. "The landscape of television has changed so much in the last 10 years. We have to keep adapting with it and be excited by it. If you get too worked up about what the market is looking for, I don't think it necessarily serves you as a production company. If I have faith in something, I'm going to do a better job selling it and getting it out there."
She uses Lost Girl as an example of a series that served an underrepresented market, reaching the LGBTQ community with its bisexual lead character. Her current development slate reflects her interest in creating a diverse portfolio of stories, with dramas and horror stories joining the genre-type series that she became known for as a producer.
Among the projects already announced through the eOne partnership is Crosswind with acclaimed graphic novelist Gail Simone, based on her original comic of the same name. The series will be adapted by Simone herself, along with Piazza's longtime collaborator Joseph Mallozzi, who previously served as the showrunner and co-creator of Dark Matter. This is the first time Simone is writing for TV, and Piazza says they're taking their time in the development stage, with plans to shop it to U.S. networks.
Piazza is collaborating with Mallozzi on a total of three projects, all in active development: Crosswind and two series created by Mallozzi. Among the projects is TimEscape, an original concept that is being codeveloped by Piazza and eOne, with Corus attached as the broadcaster. The other is a horror series titled Little Heaven, based on the novel of the same name by Craig Davidson. Much like with Crosswind, Mallozzi will adapt the series alongside Davidson.
Another project from the original announcement still in development is a drama pilot from Zoe Whittal, based on one of her novels, working with writer/producer Matt Huether.
One of the new writers Piazza is working with is JANN co-creator Jennica Harper. Unlike Mallozzi, who Piazza has previously collaborated with, she discovered Harper from one of her writing samples. She reached out to Harper's agent to set up a meeting and the two quickly set to work on developing potential series.
The two are currently in active development on a pair of shows. The first, Atomic, follows a woman who discovers she has powers on the eve of her 40th birthday. Piazza brought Harper on board to adapt the pilot, which is in development with Bell Media. Harper is also adapting Piazza's second horror series The Exorsisters, based on the comic by Ian Boothby and Gisele Lagace, about two sisters who work as exorcists-for-hire. Nurses writer Julie Puckrin is attached as a consultant on the pilot.
Moving forward, Piazza says she plans to continue uncovering new talent such as Puckrin and other staffers on her series to further diversify her development slate. She is already looking toward growing out her prodco once she's had a few series go to air, with guidance from her mentor, CEI Management president Edith Myer. As it stands, Piazza owns 100% of her company, which she says gives her total flexibility, whether that means reinvesting from producer fees or eventually selling stakes in the prodco. It's her move from here.