Corner Gas fills up on star power for season two
Ahead of its Canada Day premiere, creator Brent Butt discusses bringing Justin Trudeau, Michael J. Fox and others into the animated show's sophomore season.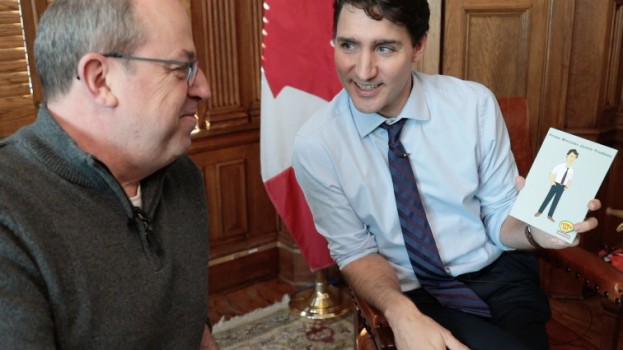 Corner Gas Animated is riding a wave of momentum not dissimilar to its live-action counterpart more than a decade ago.
Like its predecessor, the reboot has broken records for Bell Media. When it debuted in April 2018, the animated show became the most-watched premiere episode ever on Comedy Network and later the highest-rated original program in the specialty channel's history. Those ratings came nine years after the live-action version concluded its six-season run. According to Bell Media, Corner Gas attracted an average audience of 1.4 million viewers on CTV from 2004 to 2009.
On the back of a strong first season, the Dog River-set comedy returns to The Comedy Network at 8 p.m. on Canada Day. And with the first season in the rearview mirror, creator and star Brent Butt said the series is poised to build on the success of the animated reboot.
"In season one we were creating the machine that would deliver the product. So we had to build the infrastructure, create partnerships with the animation studio and build that pipeline. In season two, that already existed, so we could focus more on delivering the show creatively," he told Playback Daily.
The added creative bandwidth has also allowed the team to write some of Canada's most recognizable people into new episodes. Among them, Canadian Prime Minister Justin Trudeau, who continues a Corner Gas tradition and becomes the third sitting Prime Minister to appear in the show. Stephen Harper and Paul Martin made cameos during its original run.
The animated aspect to the show is also more conducive to working around the busy schedules of stars, notes Butt. "The logistics of doing a cameo are a lot easier with animation. We can just load up our recording equipment and come to where they are," he said, adding that the team had booked Trudeau for a 45-minute window, but were in and out of the PM's office in 25 minutes.
A host of other household names are packed into the show's second season, with Michael J. Fox making a guest appearance in the first episode. Chris Hadfield, Russell Peters, Jann Arden, and Epic Meal Time's Harley Morenstein also appear in the sophomore season.
On the international front, the notoriety gained by the reboot has also helped reignite interest in the original version, with Amazon Prime Video acquiring all six seasons, as well as the 2014 film Corner Gas: The Movie, in more than 60 territories including the U.S, U.K., Australia, Iceland and Denmark.
Seeing the animated version head into its second season is something of a "full circle" moment, said Butt, who went to university to study animation after leaving high school. "I lasted about four days and quit before orientation week was over," he laughs.
Corner Gas Animated is an inter-provincial coproduction produced by Prairie Pantoons and Moving Mountoons, in association with Bell Media. It's financially supported by Canada Media Fund, Ontario Film and Television Tax Credit, Ontario Computer Animation and Special Effects Tax Credit, Film Incentive BC Tax Credit, Digital Animation, Visual Effects and Post Production Tax Credit, Canadian Film or Video Production Tax Credit.