The exit interview: Carole Vivier
How the outgoing Manitoba Film and Music head's vision brought the province to the world, and built a quarter-billion dollar annual industry in the process.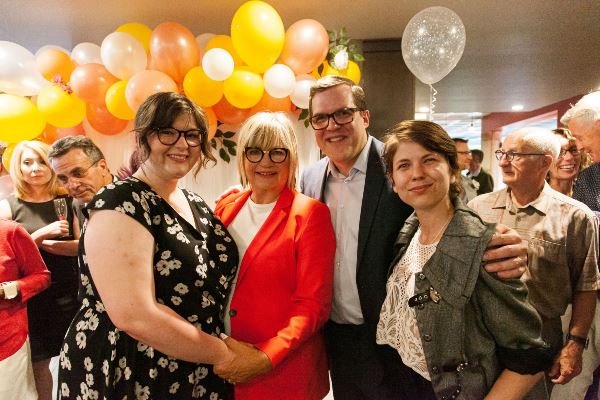 It might suffice to say that 2019 has been a big year for Carole Vivier.
Since announcing her retirement last August, the head of the Manitoba Film & Sound Recording Development Corporation (also known as Manitoba Film and Music) has been showered with praise and well-deserved accolades.
Over the course of the last year, she has been inducted into the Manitoba Business Hall of Fame, presented with a Board of Directors' Tribute from the Canadian Academy and, just last week, honoured with the creation of the Carole Vivier Scholarship for Women in Film, a scholarship that will see $7,500 given out yearly to one student in the Interactive Digital Media Program at Sisler High School. In addition to all this, she says one of the most gratifying things for her has been the numerous well-wishes she has received from a screen industry that has benefited immensely from her dedication to boosting Manitoba's profile internationally.
Looking back at her career, Vivier, who has been with the crown corporation since its formation in 1987 – serving as its CEO and film commissioner for the past 26 years – says she never anticipated to be with the organization for this long. "I think I stayed that entire time because the job was ever-changing. It was constantly evolving so it was very stimulating, energizing and exciting," she told Playback Daily prior to her departure.
It was this growth in Manitoba's film and music sectors that led to her to stay with the organization for 30 years. During that time, the province's film production volume has grown from $12 million in 1992 to $210 million just eight months into fiscal 2018, officially coming in at $270 million according to Vivier.
And a large part of this sector's growth has been thanks to Manitoba's tax credit, she notes.
For Vivier, the road towards a tax credit for the province all started when she took a meeting in L.A. While there, she remembers being told by an executive that if she really wanted people to come to Manitoba, she needed an incentive.
She took this advice to heart and for the next year, tried to get the attention of senior members of the provincial government, which was then led by Conservative Premier Gary Filmon. "Every time we had a newspaper article or a t-shirt or a hat or you name it, I would send it over to them. One day somebody said 'OK, you've got their attention,'" she recalls. With the help of these senior officials and the industry alike, the incentive was officially introduced in 1997 to create more opportunities for the province's talent, offering a 35% tax credit on all Manitoba labour.
Known as western Canada's first film tax credit, today the province's Film and Video Production Tax Credit is currently available as two programs: a 45% refundable labour-based credit that can be stacked with additional bonuses (including a frequent filming bonus to reward repeat business that was introduced in 2005, a first according to MFM), bringing it to 65%; or a 30% cost-of-production tax credit on all eligible Manitoba-based expenses.
In addition to running the organization efficiently and being a champion for the province, Frantic Films CEO and exec producer Jamie Brown notes that where other provinces have had their tax credit scrapped, Vivier securing this government support has been critical to the sustainability of Manitoba's production industry. However, he says, it's the industry's most recent accomplishments – the removal of the tax credit's sunset clause and its increased budget from $16 million to $31.5 million for 2019/20 – that have really demonstrated how Vivier and her team have been able to ensure that the film sector's importance is understood.
"Carole has been absolutely masterful at having positive relationships with the ministers," the Winnipeg and Toronto-based prodco's CEO said. "She understands who holds the purse strings in government, who do you need to make sure understands the benefit of this industry [and] the money it puts in. You don't get a lot of headlines for that kind of work because you're just having meetings and talking to people, and politicians are taking a lot of feedback and making their own policies and decisions as a government."
Brown, whose company's productions include The Baroness von Sketch Show, Still Standing and Til Debt Do U$ Part, also credits the outgoing MFM head with helping support Frantic and numerous other producers through a variety of equity programs, sometimes giving projects the last bit of financing they need to move ahead.
It was the support of Vivier and the MFM team that allowed Brown's first producing gig, Pioneer Quest: A Year in the Real West, to get made. The show followed couples as they tried to live off the grid as early settlers on the Canadian prairies for a year. Without the support of MFM, Brown says, the project could have easily been dismissed by MFM due to how different it was.
Vivier also notes that one of her many career highlights has been watching Guy Maddin's grow. The Winnipeg-based writer/director says Vivier's vision opened doors for many Manitoba filmmakers looking to burst onto the international scene at a time when most were just focused on trying to get their projects made.
"My relationship with her goes back to the pre-internet days. But right away she had a strong sense of where Winnipeg could situate itself in the film world, not just provincially or nationally – that my films could travel and take the name of Winnipeg to every corner of the world," the Emmy Award-winner said, noting that he literally did just that in 2007 with his film My Winnipeg, which screened at the Sydney Film Festival, TIFF, and more. "I owe so much of that ability to Carole. Before the internet days, she saw beyond borders," he said.
Martin Katz, chair of the Canadian Academy, who grew up in Winnipeg, also said in a statement that he credits Vivier with encouraging him to shoot TV series My Life As A Dog in Winnipeg and Gimli, in addition to building up the film and TV industry in the province. "Today it is not uncommon, from Berlin to L.A. to Cannes, to meet people who have not only heard about Winnipeg, but are planning to shoot there. That's all due to Carole's tenacity, dedication and talent," he said.
And as for her successor? Earlier this month the MFM Board of Directors announced Manitoba entertainment lawyer Rachel Margolis would step into her position full-time, serving as acting CEO and film commissioner. Speaking about what's required of the position prior, Vivier notes that in addition to being fair and transparent, the next MFM leader needs to understand the top role is about relationships, strong leadership skills and a passion for both the music and film sectors. "I think part of our job as CEO is to inspire people," she said. "And you have to love this sector. These are tough jobs and they're demanding. I don't think you can do them well unless you really love the area you're working in."
"Today it is not uncommon, from Berlin to L.A. to Cannes, to meet people who have not only heard about Winnipeg, but are planning to shoot there. That's all due to Carole's tenacity, dedication and talent." – Martin Katz, chair, the Academy of Canadian Cinema & Television
Although Vivier says she plans to spend part of her next chapter at the cottage with her family, she still intends to remain involved in the industry by serving on the selection committee for Canadian Academy's Directors Program for Women for the second time.
Of course, all this change also comes at a time when the organization is under a comprehensive review by the Manitoba government. The findings of which will be used to improve its performance, future strategy development and MFM's alignment with its government and industry priorities.
Thinking about the future of the province, the outgoing CEO and film commissioner says she believes the film sector could grow to reach $600 million in production spend over the next few years. "We are at a very exciting tipping point," she notes.
Top: Scholarship recipient Chantal Philippot, Carole Vivier, Sisler High School teacher Jamie Leduc and filmmaker Madison Thomas. Image courtesy of Manitoba Film and Music.