Kristin Kreuk is looking ahead to a career behind the scenes
The Burden of Truth star and executive producer is steeping herself in every aspect of the production process as she lays the groundwork for a future in producing.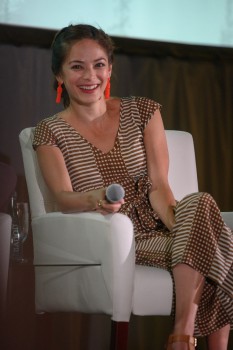 Kristin Kreuk may already be a TV veteran, but her work as a producer is just beginning.
The Burden of Truth star and executive producer told Playback Daily she first attended the Banff World Media Festival in 2011 when she was a new producer trying to pitch potential projects to global media buyers. She recently returned eight years later as an executive producer on her own hit CBC series, accepting the Canadian Award of Distinction at the Rockie Awards gala event on June 11.
Best known for her acting roles in U.S. series such as Smallville and Beauty and the Beast, Kreuk has been steadily building up her resume as a producer, with the end goal of stepping away from the camera to build up new talent.
Among her most recent projects is Phoolan, a documentary based on the life of India's bandit-turned-politician Phoolan Devi, commissioned by Super Channel and backed by Creative BC. She stepped in as an investor and executive producer alongside her business partner Rose Bhura, who first received the pitch for the project.
Her path to executive producer on Burden of Truth, produced by Entertainment One and Eagle Vision, wasn't as clear cut. Kreuk says she had a longstanding relationship with eOne, which began when she approached the company to pitch a project as a producer, but was unsuccessful. The Toronto- and U.K.-based company was keen to stay in contact in hopes of boarding Kreuk on a future project as a talent asset, which gave Kreuk access to a number of properties that eOne had under option.
And from there, the pieces fell into place. Andrew Kelly, eOne's director of scripted development, had optioned the Burden of Truth script from creator Brad Simpson and approached Kreuk to star and executive produce, allowing her to share input into the series. It was Kreuk's star power in the room that bolstered the pitch to CBC and eventually led to its acquisition from The CW, with the U.S. network interested in retaining her fanbase from Beauty and the Beast.
Kreuk has used her executive producer position to speak on behalf of the Burden of Truth cast, which she says is a "subtle way of making sure everyone feels their voices are being heard."
An example of that collaboration is in Burden of Truth's second season, when Meegwun Fairbrother, who plays the character Owen Beckbie, was brought into the writer's room to speak to his own experiences as an Indigenous person. That instinct to keep actors involved in the "DNA of the show" is part of her experience growing up as a young actor herself, where she says she felt "much more invested when I felt I was contributing beyond [saying lines from a script]."
Now Kreuk is heading into season three of Burden of Truth, which will launch production this summer. She's found Eagle Vision president Kyle Irving to be an asset on set, along with the company mandate of gender parity a policy to emulate moving forward in her producing career.
"His ability to navigate Winnipeg and Manitoba, the relationships he's built in the province and in the city are invaluable when you're shooting there," says Kreuk,
While Kreuk jokes that she was "confused" about her honour at BANFF, she takes it as a positive sign to move forward in her career and a drive to keep pushing her producing work. "It's something I have to live up to," she says.
Images courtesy Kristian Bogner Photography