Alex Patrick joins Cameron Pictures
The former president of Take the Shot Productions is the first executive-level hire for Amy and Tassie Cameron's shingle.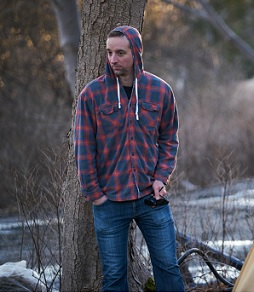 Take the Shot Productions president Alex Patrick has left the Newfoundland-based prodco to join Cameron Pictures as it builds out its executive team.
Patrick, who was president of Take the Shot for more than five years, has joined Amy and Tassie Cameron's shingle in the role of executive producer. In the Ottawa- and Toronto-based position, Patrick will focus on strategic planning as Cameron Pictures looks to expand its production slate, as well as heading up legal and business affairs.
While Patrick will no longer be a part of Take the Shot, he remains attached as an executive producer to some of the projects that he was developing prior to his departure.
During his time with Take the Shot, Patrick's exec producer credits included three seasons of Frontier (Discovery Networks/Netflix), miniseries Caught (CBC) and Newfoundland-shot comedy Little Dog (CBC), the latter of which is produced by Cameron Pictures.
This represents the first exec-level hire for Cameron Pictures, which was formed by the sibling duo of Amy and Tassie Cameron in early 2016. The company's team includes Caledonia Brown, who serves as associate producer. Over the past three years, the prodco has produced three seasons of Global drama Mary Kills People (Cameron Pictures, eOne) and Little Dog (Cameron Pictures, Elemental Pictures). Tassie Cameron's showrunning credits include Mary Kills People, ABC drama Ten Days in the Valley and ABC and Global police procedural Rookie Blue. Meanwhile, Amy Cameron is a former executive in charge of production at CBC, where she oversaw projects including The Book of Negroes, Heartland and Republic of Doyle.