Atomic Cartoons moves into phase two of Ottawa expansion
Ottawa studio head Chris Wightman discusses the animation studio's rapid growth in the region and what's next for the branch.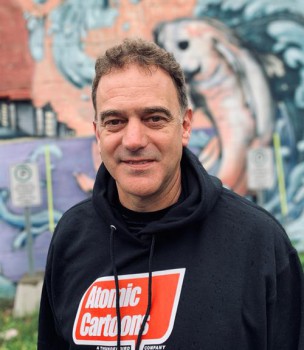 A little over six months after Atomic Cartoons opened a new outpost in Ottawa, the animation studio is growing faster than expected, according to Chris Wightman.
The Ottawa studio manager told Playback Daily that when the Thunderbird Entertainment Group subsidiary first set down roots in the region this December, it initially intended to hire a total of 14 animators and production staff. However, the team quickly realized Atomic's new division could tap into a wealth of talent in the area, leading the company to increase the office's staff count to 25.
Now, the animation studio is looking to make even greater strides as it moves into phase two of its expansion. This past weekend saw construction begin on an expansion that will increase the studio's capacity from 2,500 square feet to around 6,000 square feet. As well, the team is in the midst of onboarding an additional 55 staff members as it starts working with Universal Animation Studios on a feature-length project.
Wightman (pictured), a former Olympian luge athlete, credits the talent in the Ottawa office and the quality of work on Atomic's upcoming animated adventure-comedy The Last Kids on Earth for Netflix as primary factors contributing to the division's swift growth. Case in point: when Atomic's Vancouver team saw the work coming out of the Ottawa branch, it immediately expressed an interest in accelerating that outpost's growth. "We were always planning to expand, but it's because things have gone so well in phase one that we're jumping into full sprint for phase two," he said.
While Wightman and a spokesperson for Atomic did not provide more information on the Universal Animation Studios project, Wightman said during this next phase the Ottawa office will be hiring across all animation departments for positions like compositors and special effects, to name a few. In addition, where phase one of the studio's business mostly focused on animators, its second phase will focus on edit suites, bigger conferencing rooms and more space for animators and places to host clients. "Really, it becomes a true working studio with parts of it under the same roof, which is great," he said.
Currently, a lot of the office's talent pool is comprised of a mix of Ottawa animators looking for a change of scenery, new graduates from Algonquin and Sheridan College, and animators coming from Toronto, Vancouver and Halifax, according to Wightman. These additional 55 employees, which the studio has already started hiring, will bring the office's total headcount to around 80 by the end of August. Shortly thereafter, phase three for the studio will see it add another 2,500 square feet to its office and hire another 50 to 70 artists and production staff by June 2020. The studio also plans to continue to look for opportunities to expand its 2D animation work and bring its 3D expertise to the studio, in addition to producing factual content from Thunderbird's Great Pacific Media.
To kick off the next phase of its expansion, Atomic held an open house yesterday (June 19) to showcase its new space and introduce new staff to the office.
Image of Chris Wightman courtesy of Atomic Cartoons