CFC announces 17 participants for 2019 Cineplex Film Program
Julie Strifler and Shant Joshi are among five producers that will develop their original projects through the five-and-a-half-month program.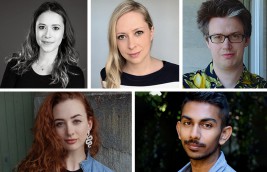 The Canadian Film Centre (CFC) has revealed the 17 participants of the 2019 Cineplex Film Program.
The five-and-a-half-month program is separated into four labs for producers, directors, writers and editors, offering a chance for original content development and packaging to incubate future projects.
Among the five producers selected are two Talent to Watch recipients: Julie Strifler, whose project Easy Land was selected in 2018, and Shant Joshi, who landed funding in this year's round for Framing Agnes. Joining them are Erin Marie Byrnes, Brendan Whelton and Lindsay Blair Goeldner.
The five directors selected this year are Tricia Hagoriles, Teyama Alkamli, Gillian McKercher, Roney and Andrew Jeffrey. Joining them are writers Georgina Beaty, Nick Kewin, Trevor Christie and Simon Gadke, alongside editors Rick Bartram, Agnes Dec and Xi Feng.
Program alumni include New Metric Media's Mark Montefiore, Wilding Pictures' Matt Code, Kathleen Hepburn (Never Steady, Never Still), Molly McGlynn (Mary Goes Round), Cory Bowles (Black Cop) and Miranda de Pencier (The Grizzlies).
Image (L-R, top): Julie Strifler, Erin Marie Byrnes, Brendan Whelton; (bottom) Lindsay Blair Goeldner, Shant Joshi.