Aeon Studio Group eyes Hamilton production hub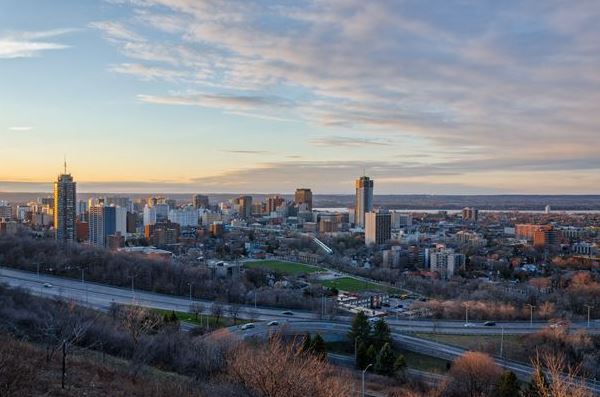 Aeon says it plans to build 500,000 square feet of studio space, with around one-third of that becoming operational within a year.
Aeon Studio Group (ASG) has unveiled plans to bring a 15-acre film, TV and digital media production campus with residential and retail space to Hamilton's Barton-Tiffany lands.
Dubbed the Hamilton Studio District, the "live-work-play" development will consist of a film and TV production campus with purpose-built soundstages, production offices, support facilities and a backlot; various studios for post-production, animation, visual effects, game development and music; office buildings for film industry suppliers; residential and retail space, including two residential towers and an open space for the community; a crew training facility; and collaborative creative workspaces geared towards the artistic community.
With the Hamilton Studio District, ASG plans to build 500,000 square feet of sound stage space in the city, with the first 150,000 square feet expected to be operational within a year. Financial details relating to the level of investment were not disclosed.
ASG is described as a developer and operator of film and TV-related spaces. It is led by principals Robbie David, Mike Bruce, Jeff Anders, Phil Lefko, Stephany Mandin and Mark Sakamoto, some of whom were involved in Studio 550 Canada in Etobicoke, ON.
Through its affiliate Hamilton Studios, ASG has signed a memorandum of understanding (MOU) with the City of Hamilton. The MOU details the business framework for the sale and purchase of the land, which is located by the intersection of Barton Street West and Tiffany Street and near the bay in Central Hamilton. A spokesperson for ASG told Playback Daily that the purchase agreement for the land is expected to be finalized this year.
In a release about the announcement, the coalition named Hamilton City Council, the DGC – Ontario, Mohawk College, McMaster University, Workforce Planning Hamilton, Ontario Creates, Interactive Ontario, NABET 700-M UNIFOR and the Government of Ontario Ministry of Economic Development, Job Creation and Trade, as some of the groups that have contributed towards this shared vision and plan. These institutions, according to a spokesperson, have rallied around making Hamilton an international production hub through pledging financial support, providing advice, making introductions and investing employee time into film industry initiatives.
The press release also noted that the Hamilton Studio District will contribute to rejuvenating Hamilton, cleaning up the Barton-Tiffany region, in addition to creating hundreds of local construction jobs and thousands of jobs in media, digital and supporting industries. "To that end, ASG and its coalition partners are working to build a pipeline of talent from local schools into full membership in the industry unions," said the statement.
Most recently, in November 2018, the City of Hamilton held a community meeting to discuss the opportunities and challenges associated with allowing a range of creative cultural uses, including a production studio, within the Barton-Tiffany lands.
Recent productions that have rolled into the city include writer/director Robert Budreau's Stockholm, director Guillermo del Toro's 2018 Oscar Best Picture winner The Shape of Water and Netflix's The Umbrella Academy.
The Hamilton Studio District joins a string of recent studio space expansion plans in the Greater Toronto Area like Markham Movieland, a 400,000-square-foot studio facility in Markham, ON; CBS' 260,000-square-foot Mississauga studio; and TriBro Studios' 400,000-square-foot studio Pickering facility.