Pubcasters unite as shared challenges intensify
CBC's Catherine Tait and ABC Australia's Michael Carrington discuss the growing importance of international collaboration as public broadcasters face mounting pressures.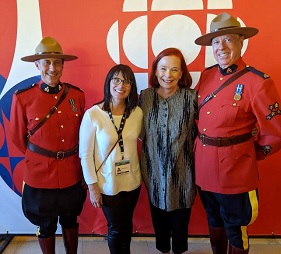 Public broadcasters across the globe are acutely aware they're no longer simply playing in their own domestic markets. And as such, global partnerships are becoming increasingly common as pubcasters grapple with the challenges created by global streaming services and a changing financial model for conventional TV.
The latest deal, announced at Banff World Media Festival (BANFF) last week, is a strategic alliance that sees CBC teaming with ABC Australia to co-finance and co-develop projects across kids, factual and scripted, in addition to collaborations on podcasting, media literacy and news. The three-year MOU, which represents a first for both CBC and ABC, is indicative of a landscape in which broadcasting organizations must move quickly to address mounting pressures on their business models, says CBC president and CEO Catherine Tait.
"Would we have had this conversation five years ago? Possibly, but not with the same urgency. The urgency is really what's changed," she told Playback Daily.
And it's not solely a discussion CBC has been having with ABC.  "The conversations we've been having with a number of public broadcasters is 'how do we start collaborating and putting our very limited resources together so that we can start doing more ambitious projects to have a greater global impact,'" she said, adding that she's also spoken with BBC director general Tony Hall and France Televisions CEO Delphine Ernotte. Tait will also head to Oslo later this month to the European Broadcasting Union's (EBU) General Assembly to discuss this very matter.
CBC and ABC aren't the only ones linking up, and their deal comes a year after Italy's RAI, France Televisions and Germany's ZDF unveiled a scripted copro pact, dubbed the Alliance, in order to help them better compete in a world of streaming giants.
Meanwhile, for ABC, the shared challenges and synergies between Canada and Australia made this deal a logical one, said director of entertainment and specialist networks Michael Carrington. "Public service broadcasting is under pressure all around the world, and we have the big global players in Australia in the same way that Canada has. This deal was a no-brainer."

Early talks about creating a formalized partnership began at Kidscreen Summit in February, with Tait and ABC's newly minted head of kids production Libbie Doherty discussing various synergies and challenges facing each organization, before Tait continued discussions with ABC's managing director David Anderson and Carrington.
Putting pen to paper on an agreement of this nature in just four months is a rapid turnaround, said Tait and Carrington, and another indication that swift action is required.
Announced alongside the MOU was the news that ABC had acquired a trio of CBC original series: Big Blue (Guru Studio), and copros Kiri and Lou and the upcoming sci-fi epic Endlings (Sinking Ship). In addition to those pickups, the organizations have identified a number of projects on their respective development slates in the kids and factual genres. Scripted is also an area in which the pubcasters are looking for content that could work for both audiences, said Carrington.
"High-end drama is the key to new audiences, we have found in Australia," said Carrington. "We use drama at the ABC to tell Australian stories, but it doesn't stop us looking at Canadian-Australian stories."
But while collaboration between Canada and Australia certainly seems like a good idea on paper, there is one practical reality that has always made the partnership challenging: a tricky time difference. In order to work around this, CBC and ABC will also send executives on exchanges to give them time to immerse themselves in the other's programming operations. "Because we're a creative industry, the more our programmers spend time together the better the chances that we'll develop some great intellectual property," said Tait.

As the shared challenges faced by pubcasters intensifies, Tait says we could be seeing the dawn of a new era in which cross-territory collaboration between pubcasters becomes increasingly prevalent. Tait noted that, for the most part, she thinks bi-lateral agreements will be more common than multi-lateral ones, but that all partnerships will be a net positive for public broadcasters looking to tap into additional resources. "It just creates a higher likelidhood of collaboration, co-financing and co-development," she said.