Seven Canadian titles set for Frontieres at Fantasia
Projects from Colonelle Films, Pat Mills (Don't Talk to Irene) and Jeremy Lutter (The Hollow Child) are among some of the copro market's official selections.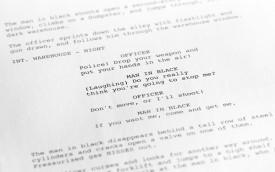 Frontières, an annual international copro market geared towards genre films at the Fantasia International Film Festival, has selected seven Canadian teams for its Official Selection slate.
Projects set for the Montreal market, which runs from July 18 to 21 during the festival, include: Colonelle Films' The Trials of Alien Life ("L'Èpreuve de la vie extra-terrestre") from writer/director Ian Lagarde and producers Sarah Mannering and Fanny Drew; director Pat Mills' The Retreat with writer and producer Alyson Richards; and director Jeremy Lutter's We Came From the Sea with writer Ryan Bright. Producer Raynor Shima from Luchagore Productions is on board for We Came From The Sea alongside Lutter's B.C.-based prodco Broken Mirror Films.
Other Canadian projects headed to the fest are The Future Eve ("L'Ève future"), from director Olivier Asselin and producer Christine Falco from Films Camera Oscura, which was co-written by Asselin and Lucille Fluet; My Animal from director Jacqueline Castel, writer Jae Matthews and producers Aonan Yang from Greenground Production and Michael Solomon from Band With Pictures; writer/director Kirsten Carthew's Polaris with Hootalinqua Productions' Max Fraser; and finally, director Jeremy Schaulin-Rioux's Rules For Werewolves, with writer Kirk Lynn and producer Peter Harvey.
In addition to these Canadian projects, this year's Official Selection, which includes a total of 20 projects, also features a first for the market – Japanese and Lebanese films like director Satoshi Miki's The Convenience Store (Japan/U.S./Italy) and director Nadim Tabet's Under Construction ("Warche," Lebanon). Also for the first time, featured programming includes a spotlight on Canadian short filmmakers that are developing feature-length adaptations with the Shorts to Features Pitch Session.
This year's program will also see the Created by Women Pitch Session, a program presented by Telefilm Canada and Women in Film + Television Vancouver, return for a third time. It will include four first-feature projects, which will be pitched by up-and-coming female writer and directors from across Canada.
Image: Shutterstock