Telefilm, Talent Fund lift lid on 2019/20 Talent to Watch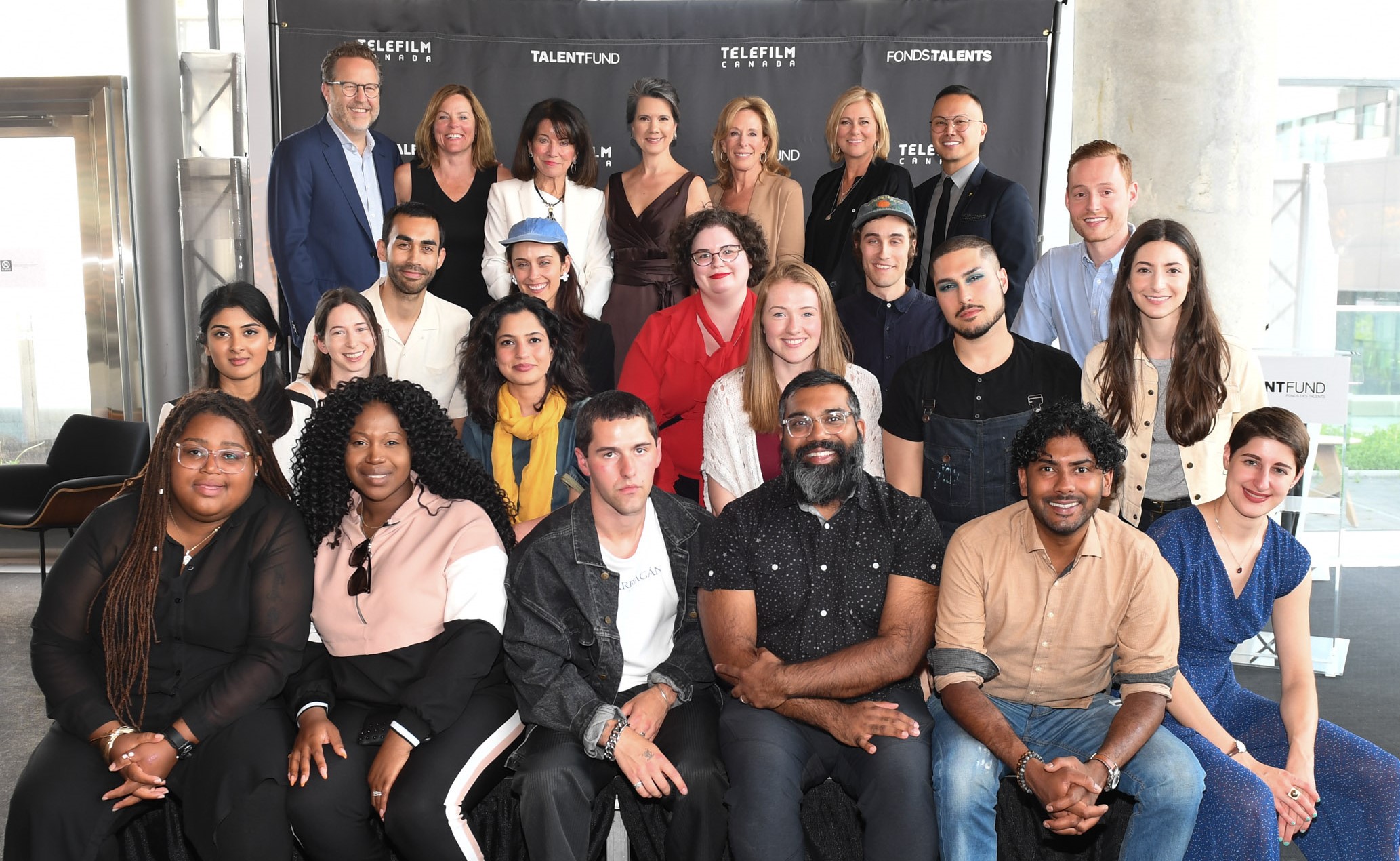 This year's program will support a total of 31 English- and French- language projects, made up of 28 feature films and three web formats.
Telefilm Canada and the Talent Fund, a private investment fund created by the film funder to support emerging filmmakers, have chosen 31 recipients for the 2019/20 Talent to Watch funding program.
Previously called the Micro-budget Production Program, the Talent to Watch program aims to support emerging creators with their first feature-length film projects or narrative webseries. Through the initiative, recipients receive support towards production, digital distribution and promotion, in addition to a maximum of $127,500 per project. Last year's cohort saw the program support a total of 45 teams, comprised of 38 feature films and seven web projects. This year's Talent to Watch program will support a total of 28 films and three web formats.
After pledging to support around 50 projects each year in 2017 to coincide with Telefilm Canada's 50th anniversary, the Talent to Watch program is changing its approach slightly in its second year. "Since then, we have received constructive feedback from the industry and our partners who shared concerns about the pressure this would create in some provinces and remote locations that require additional resources to help build the careers of their local talent," said Telefilm Canada exec director Christa Dickenson in a statement. "A more refined selection of projects, from teams who demonstrated strong story development, business knowledge, and a comprehensive go-to-market plan, will create more opportunities for our Talent to Watch recipients."
Dickenson, in a release, also added that the latest group of recipients is one that better reflects Canada's rich diversity, and has greater representation from LGBTQ2+ communities.
The Talent to Watch program sees teams from across the country submit their projects to one of the initiative's designated partners, which include the likes of the CFC, Capilano University and the Female Eye Film Festival. From there, these organizations then submit applicants to Telefilm for consideration by three separate peer-based juries from various English, French and Indigenous groups.
In addition to this Selective Stream, which sees financing awarded to these projects through this industry jury, the program also offers the Festival Selection Stream, an automatic financing stream that gives funding towards emerging directors who have had a short film at a recognized film festival. New Talent to Watch program partners for this year include the Vancouver International Film Festival and Bande Sonimage, to name a few.
Most recently, Sleep Country Canada co-founder and co-chair Christine Magee was appointed the chair of the Talent Fund, which was established in 2012 to help diversity funding sources and now supports the program. Shortly thereafter, the Talent Fund named philanthropist and entrepreneur E.J. Alon to its newly created role of director.
According to Telefilm Canada's 2017/18 annual report, since the private fund was launched in 2012, it has raised more than $15 million for the Canadian production industry. Additionally, during the fiscal 2017/18 year, the Talent Fund raised $2.5 million from its principal partners like Bell Media and Corus Entertainment and corporate and individual donations. Also during the same time, the fund allocated $2,537,000 towards the financing for the production and promotion of projects and said it financed 85% of the Talent to Watch program.
See the 2019/20 Talent to Watch cohort below:
New Brunswick
Further Than The Eye Can See: Ryan O'Toole (writer/director), Tracey Lavigne (producer), partner: New Brunswick Filmmakers Co-operative
Northwest Territories
Food For the Rest of Us: Caroline Cox (director), Tiffany Ayalik (writer), Jerri Thrasher (producer), partner: Western Arctic Moving Pictures
British Columbia
Anyox: co-written and directed by Jessica Johnson and Ryan Ermacora, Alysha Seriani (producer), partner: Vancouver International Film Festival
Back Home: Nisha Platzer (writer/director), Joella Cabalu (producer), partner: Vancouver International Film Festival
Best Friend Me: Ana de Lara (director), Andrea Marie Swallow (writer), Arnold Lim (producer), partner: Creative Women Workshops Association (web format)
The Certainty of Symmetry: Jaren Brandt Bartlett (writer/director), Kelton Stepanowich (producer), partner: Adam Beach Film Institute, Indigenous
Manitoba
Coffee Express: Roger Boyer (writer/director), Eva Thomas (producer), partner: Adam Beach Film Institute, Indigenous
IndigiThreads: Adeline Bird (director/writer), Ryan Wilson (producer), partner: On Screen Manitoba, Indigenous
Intersection: Cecilia Araneda (writer/director), Joseph Novak (producer), partner: On Screen Manitoba
Ontario
Concrete Valley: Antoine Bourges (writer/director), Seherezade Mian and Meelad Moaphi (producers), partner: York University
Doubles With Slight Pepper: Ian Harnarine (writer/director), Mark Sirju (producer), partner: Toronto International Film Festival
Erin's Guide to Kissing Girls: Julianna Notten (writer/director), Claire Allore (producer), Partner: Ryerson University
Quickening: Haya Waseem (writer/director), Yona Strauss (producer), partner: Sheridan College
Rejects Night: Chandler Levack (writer/director), Victoria Lean (producer), partner: Festival Selection Stream
Shylo: Walter Woodman (director), Patrick Cederberg (writer), Sidney Leeder (producer), partner: Festival Selection Stream
Summer of the Gun: Kelly Fyfe-Marshall (writer/director), Tamar Bird (producer), partner: Caribbean Tales
Framing Agnes: Chase Joynt (director), Morgan M. Page (writer), Shant Joshi (producer), partner: York University
The Maiden: Graham Foy (Fantavious Fritz, writer/director), Daiva Zalnieriunas (producer), partner: The Academy of Canadian Cinema & Television
The Oak Tree: Samiramis Kia (writer/director), Susan Bayani (producer), partner: York University
Tribe: Joseph Amenta (writer/director) and co-produced by Alexandra Roberts and Daniel Sedore, partner: Festival Selection Stream
Verona: Sebastian Back (writer/director), Maeve Kern (producer), partner: Ryerson University
Québec
Cette Maison: Miryam Charles (writer/director), Félix Dufour-Laperrière (producer), partner: Main Film
Gabor: Joannie Lafrenière (writer/director), Line Sander Egede (producer), partner: Doc Circuit Montréal
Jouvencelles: Fanie Pelletier (writer/director), Audrey D. Laroche (producer), partner: Festival Selection Stream
Là où tout se rassemble: Guillaume Langlois (writer/director), Jean-Philippe Archibald (producer), partner: Bande Sonimage
Nichole: Gabriel Savignac (director), Guenièvre Sandré (writer), Jerémie Boucher (producer), partner: Coop Spira (web format)
Passage: Sarah Baril Gaudet (writer/director), Audrey Fallu (producer), partner: Main Film
Windy Gun: Marc-Antoine Lemire (writer/director/producer), partner: Festival Selection Stream
Zipolito: Ariane Falardeau St-Amour (director), Paul Chotel (writer), Omar Elhamy (producer), partner: Mel Hoppenheim School of Cinema – Concordia University
Nova Scotia
I Am Syd Stone: Denis Theriault (writer/director), Gharrett Paon (producer), partner: The Inside Out LGBT Film Festival (web format)
Whale Sanctuary Project: Kevin Fraser (writer/director), Melani Wood (producer), partner: Nova Scotia Community College