How can Canada's TV industry compel creatives to stay?
Canadian screenwriter expats share why they left to work in the U.S. and how the market is ready for new stories, even if decision-makers aren't.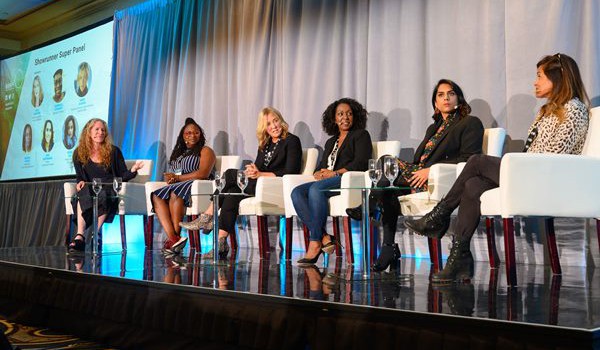 Canada's television industry is in the midst of a talent crunch. More than ever, Canadian producers are trying to find ways to entice writers to stay north of the border. While many are sticking around, the number of Canadian expats working in the U.S. is still abundant.
So how can these writers come back to Canada, and why did they leave in the first place? A panel at the Banff World Media Festival posed the questions to Canadian creatives who've all worked in the U.S., featuring Shernold Edwards, one of the writers of Anne with an E, Sheri Elwood, creator of Call Me Fitz, Marsha Greene, co-showrunner of season three of Mary Kills People, Vera Santamaria, co-creator of How to be Indie, and Veena Sud, creator of The Killing.
Moderated by Amy Cameron, co-founder of Cameron Pictures, it dug into the difficulties of trying to work in Canada when there is so much opportunity south of the border.
Context is everything for this topic, according to Santamaria, who says she went to the U.S. in 2010 after reaching a wall in Canada where she struggled to successfully pitch anything outside of kids content. "It was very limited. When I moved to the U.S. suddenly there were different shows where people just saw me as a funny woman," said Santamaria, who has worked on series such as Orange is the New Black, Bojack Horseman, Playing House and Community. "I've had such a varied career."
Elwood left Canada around the same time, though she'd been "called to L.A." by ABC and found herself staying there. "I was in a marketplace that embraced my off-beat sensibility," she said. She added that the biggest difference between Canada and the U.S. is the speed to market, with the development process moving much faster. "I can take a pitch out in the U.S. tomorrow and I'll have an answer on Monday," said Elwood. "It's not just the number of doors to knock on, it's the responsiveness."
Another pull is Jeffrey Katzenberg's Quibi, which is slated to hit the North American market in 2020. Sud, who is working on a project for the platform, says its model is ideal for creators, who get 50% of the rights reverted back to them after two years.
However, a lack of creative agency isn't an issue that solely resides in Canada. Both Sud and Santamaria note there's a gap in the voices heard and stories being told in the U.S. market, with Sud noting that 80% of writers' rooms are made up of white men. While Sud says the growing global market and prominence of Netflix is making stories set outside of the U.S. more accessible to audience, the pace it's heading is still too slow.
The same remarks were echoed earlier in the day at the "Major Drama: TV in the Cultural Conversation" panel, where industry leaders and creatives, such as Bell Media's SVP, original programming, Corrie Coe and showrunner Emily Andras, discussed how television shapes and reflects today's culture.
The room discussed the generational disparity in content demand. Older audiences are still interested in traditional television, with Christmas-themed MOWs pulling in high ratings across every network. But younger generations, especially the newest generation of activists, are hungry for new, boundary-pushing content, such as 13 Reasons Why. Meghan Hooper, SVP, original movies, coproductions and acquisitions for Lifetime, cited Freeform's reimagining of Party of Five as children whose parents were deported as a deeply political and valuable series in the market.
Even series such as The Handmaid's Tale, which can be hard to watch at times due to its alarming political relevance for women's rights in North America, is finding success, which Andras says is because of savvy writing. "If it's executed well enough it will be universal," said Andras.
So why are writers struggling to pitch their content? It's the buyers and distributors that are playing it safe rather than taking a risk, according to Deniese Davis, COO of ColorCreative and producer on Insecure, as opposed to any data that says audiences aren't interested in new, diverse content.
Back in the showrunner panel, Edwards said that while she could never have pitched her current eOne series in development, with a black lead first on the call sheet, to a Canadian network 10 years ago, she's heard things are changing. Earlier in the festival CBC has announced its commitment to hiring diverse creatives.
And many of the panelists were in agreement that Canada is an ideal place to learn how to be a writer. Compared to U.S. writers who don't have to worry about budget constraints, Canadian screenwriters are more acutely aware of how expensive a scene can be and understand more about the production side of things, according to Santamaria, while Elwood says writing in Canada helped her learn the carpentry of writing and how to hone her own voice. 
"The challenge is, people [in Canada] are interested in retaining talent and hearing what you want to make, but they don't necessarily feel they're all able to make those things here," said Greene.
"Exactly, it's confusing," added Elwood, "At a certain point you'll run out of showrunners."
Image courtesy of by Kristian Bogner