Michelle Lovretta isn't afraid of moving on
The Killjoys and Lost Girl creator shares her philosophy on mentoring up-and-coming showrunners.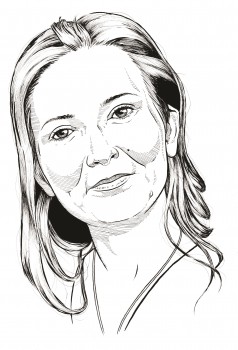 The Toronto-based Lost Girl and Killjoys creator launched her career with a TIFF premiere for her first screenplay, The Fishing Trip, in 1998 before she made a name for herself writing on Canadian genre series Relic Hunter and Mutant X. As Killjoys wraps up its five-season run starting July 19, Lovretta shares her experience passing the showrunning baton and her long-term career hopes.
What drew you to writing for genre?
Buffy the Vampire Slayer was the first time I saw the type of worlds that existed natively in my head – the ones I thought had to be features that nobody was going to make, or novels, which I was too scared to try on my own. Suddenly, I realized the stories and the women in my head could be on the small screen.
Who were some of your early mentors?
There was [screenwriter] Wayne Grigsby, who put me in his room at the CFC. He handed me my connection to my agent, Jeff Alpern, who connected me with Bill Mustos at CTV, who handed me my first development deal. [Producer] Anne Marie La Traverse was a huge support and taught me all about MOWs. [Producer] Jeff King, who was a mentor at the CFC, went out of his way to say: "Come to L.A, and I'm going to give you a Relic Hunter freelance script." That was my very first script assignment. [Producer] Peter Mohan changed my life when he brought me on to Mutant X.
What is unique about Canadian genre in particular?
What we do well is tell the stories of oddballs, outsiders and people trying to do good in the chaos of it all. We tell stories of a slightly different kind of hero. We are queer-positive. We are feminists. We are humane. I worry sometimes when I hear whispers that networks aren't going to be ordering genre anymore because it's been the spine of the Canadian industry internationally.
Was there any difficulty in handing over creative control of Lost Girl or the last two seasons of Killjoys?
When people give you a hand up, you have to make sure you do the same. I am not afraid of what happens next. I'm afraid of stagnating. So, I tend to leave things. I like to believe that I quit upward. I invest every particle I have [while showrunning], and that can get exhausting because the shows I've created are shows that are trying to do something without the funds to support the big dream. Every day is a fight. When I don't find the joy in it, then I need to protect that property and make sure somebody who still has the joy gets to take the reins.
When and where are you happiest?
With a new world in my head, unquestionably.
What's next for you after Killjoys comes to a close?
After creating and showrunning two long-running shows, I have the itch to figure out what my next challenge is. Creating and running a show is like baking a pie. You change the filling, but it's still a pie, and I don't know that I want to sign on to just be a pie baker for the rest of my life.
In terms of what I'm going to do long-term, it may involve a beach and some vodka. It may involve heavy research and a feature. Hopefully, either course involves naps. It could also involve officially starting my own shingle and production company. The delicious part right now, for me, is simply not knowing.
Illustration by: Ryan Helstern
This story originally appeared in the Summer 2019 issue of Playback magazine