Banff '19: Distributors promote their value as commissioners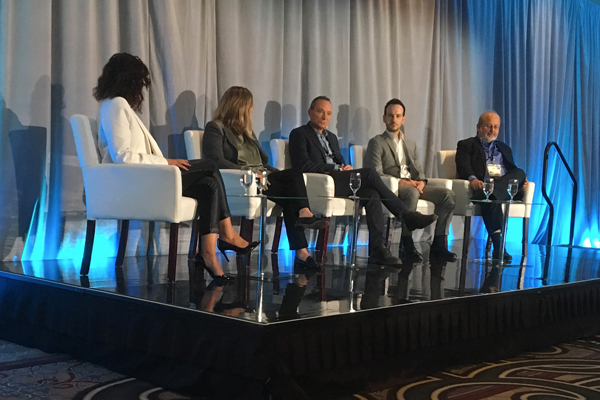 Distributors share their take on why they've started commissioning and producing their own content, and how producers can package their pitch for success.
Broadcasters aren't the only ones giving the greenlight these days. More and more, producers are seeing distribution companies such as Blue Ant Media and Kew Media commissioning and even producing their own projects, becoming more akin to network executives.
Distribution experts gathered at the Banff World Media Festival on Monday to dissect what caused the industry shift and give producers a better understanding of what it takes to get a greenlight in today's market.
Moderated by 4East Media CEO Sharone Ostrovsky, the panel was comprised of four distributors involved in the Canadian and international market: Solange Attwood, EVP, international at Blue Ant Media, Chris Bonney, CEO of Cineflix Rights, Max Richards, VP, international, distribution at Propagate Content, and Greg Phillips, president of distribution at Kew Media Distribution.
According to Attwood there are two key factors in distributors joining the commissioning game: the volume of buyers in the global market, especially buyers with billion-dollar budgets, and the growing level of opportunities for international coproductions. "That has triggered distributors coming on board, identifying great creative content that has intuitive and obvious end buyers," said Attwood. "You have greater security that you can front and put up more capital risk."
Some distributors, such as Propagate Content and Cineflix Rights, will option or identify IP with a high chance of success and then seek out creators for development. Blood & Treasure, which currently airs on Global in Canada and CBS in the U.S., was a case of Propagate owning the IP and reaching out to Matthew Federman to develop the concept to pitch to CBS. When CBS declined due to its high budget, Propagate used its financing knowledge and resources and filmed the series in Canada and Europe, which brought down the budget by about 25%. "By then it was an easy decision for the network," said Richards.
Cineflix Rights had the ability to reach out to its sister prodco, Cineflix Productions, when they identified market demand for factual content around the Nazi regime in WWII, according to Bonney. The result was Hitler's Most Wanted, which has been picked up by UKTV, France's Planete and Discovery Networks in Europe.
Since getting involved in a project as early as possible has become the new normal in the industry, distributors are always looking to articulate their value proposition to creators. "Distributors are attending markets around the world annually, so they're constantly finding out what's new and what buyers can afford in terms of licensing fees," said Attwood.
"We have our fingers on the pulse of the international market," added Richards, who says distributors are also able to think long-term and look ahead to second-window rights in the age of linear and non-linear platforms. Propagate is also a majority stakeholder in management company Artists First, which allows them to package content with its talent resources when pitching to broadcasters.
So what does it take to get the greenlight from a distributor?
Unsurprisingly, it starts with a good idea that is packaged well so a distributor can get a sense of how it can sell. "You have to figure out, 'How can I cut through the noise? How is it special? What does it do for the marketplace?'," said Phillips. If the creator is authentic about their product's market value, the distributor will have a better understanding of the financing required to see it through to production.
Attwood gave the example of Blue Ant's unscripted format Best Cake Wins, which airs on its Makeful channel. They were pitched the concept of a reality series where two chefs compete to create a child's dream cake. Knowing it would be a success, they jumped on board and fully funded the series. Since then the series has been sold in 65 territories, according to Attwood.
In terms of the content distributors are looking for, they say the market demand for unscripted content isn't slowing down. The best examples are crime stories, which Attwood says is a bubble she doesn't see bursting for a very long time, as well as series that offer a new way of re-telling history. Richards added that, in today's political and social climate, feel-good unscripted content is what audiences want to see.
Pictured (L-R): Sharone Ostrovsky, Solange Attwood, Chris Bonney, Max Richards and Greg Phillips.