Banff '19: Is there room for small players in an industry of giants?
The festival opened its 40th year with a debate on whether the market is open to competitors or if recent U.S. consolidation has created companies too big to fail.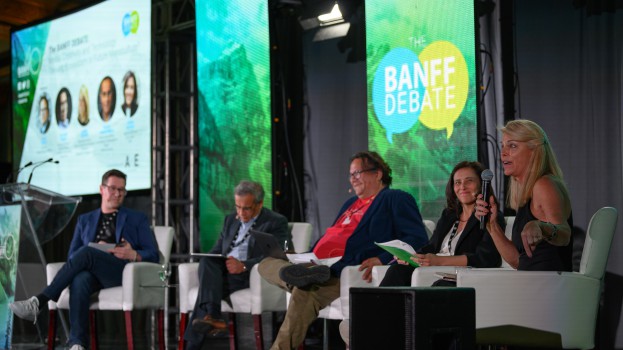 The Banff World Media Festival opened its 40th year with a debate on the future of the global industry.

Panelists at the debate, moderated by Jesse Wente, director of the Indigenous Screen Office, were posed with a complex question: as the industry grows increasingly global, will new competition in the marketplace lead to more choice for consumers in the future or will the landscape become more concentrated, with a handful of multinational companies continuing to dominate?
Before launching the debate, Wente took a quick survey and most were optimistic about the state of the industry, but were open to changing their mind.
Panelists debating on the side of optimism were Richard Kanee, executive director, digital strategy at CBC, and Rishad Tobaccowala, chief growth officer at Publicis Group. Debating them were Joana Vicente, executive director and co-head of the Toronto International Film Festival, and Laura Martin, managing director, senior analyst at Needham & Company.
It has never been an easier time to be a creator, even in the global market, argued Kanee, who pointed out that the 3.3 billion smartphone users in the world have the means of creating content. Tobaccowala added that international demand and the scripted content boom means there's a growing need for niche, local stories, requiring a diverse range of creative voices. And there are more opportunities to land funding than ever before with angel investors and online means such as Patreon. "Today there is $1 trillion dollars of private equity ready in people's pockets looking for a place to go," said Tobaccowala.
However, Vicente and Martin countered that once those creators hit a level of success they are scooped up by a small pool of billion-dollar companies in order to make a real impact in the market. Giant mergers and consolidations, like Disney's recent acquisition of Fox, are creating an environment where smaller companies can't compete when it comes to production and marketing budgets or IP ownership. Martin looked at the recent box office failure of Fox's Dark Phoenix as an example of what competing in today's industry looks like. "Companies can fund $100 million to $200 million films and fail because they have a theme park to subsidize it and don't go bankrupt when they do."
But consumer trust in big companies is eroding, Tobaccowala says, citing Facebook as an example, opening up avenues for more trustworthy competitors.
Both sides could agree on one matter: it has never been a better time to be a content creator. Demand is bigger than ever, with Tobaccowala remarking that top-level creatives are in a better position to leverage their deals. On the flip side, however, Martin noted that continued innovation in artificial intelligence around script-writing could make creators obsolete.
The debate came down to whether the U.S. will remain the dominant market in the screen industry. Martin and Vicente argued companies like Netflix, with its massive library of content, and Amazon, which now is taking huge strides in Esports media, make it impossible for competitors to get an edge. "The U.S. is still the biggest exporter of culture, globally," said Vicente. "This process is endemic to capitalism, so there's no reason to think it will be different."
Kanee and Tobaccowala countered that the global industry is becoming less U.S.-centred, arguing the consolidation happening in the U.S. is because companies are losing money from consumers. "The reality is that when you get big, you get burst."
So which side came out on top? When all was said and done, the crowd was far less certain about the future and was evenly split on the topic. Wente declared a stalemate.
Photo credit: by Kristian Bogner. Pictured (L-R): Richard Kanee, Rishad Tobaccowala, Jesse Wente, Joana Vicente, Laura Martin.