How Red Button allowed Media Headquarters to experiment
With its season two launch, CEO and exec producer Robert Cohen discusses the format's "mini film school" approach, and more.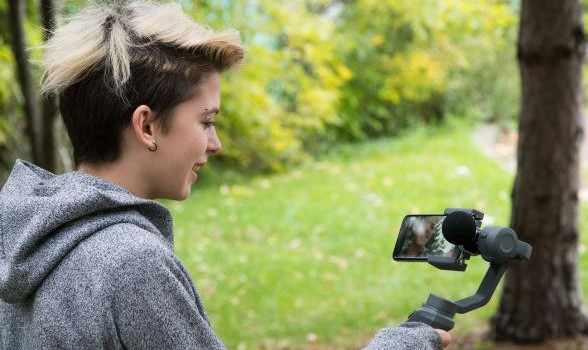 When Media Headquarters started crafting the idea for its short-form documentary series Red Button in 2015, the prodco was interested in combining two concepts: the rawness of self documentation on social media with a TV narrative. "It was an experiment and we were very happy with the results," prodco CEO and exec producer Robert Cohen told Playback Daily.
The six-part digital series sees the subject become the director – with participants receiving one-on-one training before shooting their day-to-day life with a camera phone, while earning a director's credit alongside Cohen and producer Jeni Besworth.
What makes Red Button different from your average social media post, according to Cohen, is the fact that the show offers youth an empowering platform to have their voice heard. "We wanted to give a voice to those who didn't always feel they have one – not only a voice, but training so that they can elevate their own voice," he said.
Through a "mini film school" approach, participants are taught about equipment, different visual styles and the basics of story structure, allowing for each episode of Red Button to be tailor-made to fit each subject's story and visual style. Although director's have to hand over their footage prior to editing, Cohen explains that the collaboration between producers and participants continues through discussions about how the edit is shaping up.
Officially launched in 2017, season one tracked the stories of various homeless youth in Toronto. It debuted on CBC's CBC TV app, YouTube and Facebook, achieving some viral success at launch time.
For instance, Cohen, who has created formats like Canada's Smartest Person and Outlaws In-Laws, points to how the first three episodes of season one have been viewed more than 1.7 million times on Facebook alone. Additionally, one of Red Button's episodes centred on Rabbit, a young man dealing with an addiction issues, has been seen over 965,000 times. "It was a perfect example of the power of the format," he said noting that his story and others quickly received praise and support online. "The fentanyl and opioid crisis in Canada is not a new story, but I think the way that Rabbit took us inside that story was new, from his deeply personal, honest, emotional perspective."
It was this resonance that led both CBC and Media Headquarters to swiftly agree to collaborate on a sophomore season, which lands on CBC Gem today (June 7). "We could see the impact that it was having and wanted to quickly build on that and tell more stories to have [even] more impact," said Jennifer Dettman, CBC exec director, unscripted content.
The series is also just one of the ways the public broadcaster is focusing on young Canadians. For instance, earlier this year, CBC said it would double its kids inventory on CBC Gem over the course of 2019 through various acquisitions and new commissions. In addition, at its Upfront last week, the pubcaster's president and CEO Catherine Tait emphasized that it wants to deliver more audience-driven, tailored content to better serve Canadians, while creating more content for children and young adults on all platforms in order to build life-long relationships with these audiences. "I love the fact that we are just getting out of the way, that we are saying you tell your own story and I think that, especially for young people, is really appealing because there is a real need and desire for that authenticity," Dettman said, also noting that the show allows these directors to dispel various stereotypes and misconceptions.
Following the threads of addiction and mental health shown in season one, season two of Red Button focuses on a raft of new stories, showcasing individuals as they deal with a health condition or issue impacting their daily lives. Some of the director's featured this season include a motivated writer who uses a wheelchair; an overachiever with Treacher Collins Syndrome; and a transgender teen dealing with depression and anxiety who decides to leave home, to name a few.
Thinking about the future of the show, Cohen says his prodco is interested in adapting Red Button for the international market and potentially furthering its relationship with these fresh faces. "When you work with these different youth subjects and filmmakers, it's wonderful because you're getting new stories and new talent that you otherwise wouldn't meet in the course of doing business in our industry," he said.
Season two of Red Button was produced with the participation of the Bell Fund, the CMF and the Canadian Film & Video Production Tax Credit. In addition to Cohen, who serves as an exec producer and director on the show, Melanie Brobyn is a co-exec producer.
Image of Red Button courtesy of Media Headquarters