Mena Massoud's rise to fame fuels indie short curiosity
Before he starred in Aladdin, the Markham-born actor was cast in a Canadian short film and now its producers are reckoning with his unexpected success story.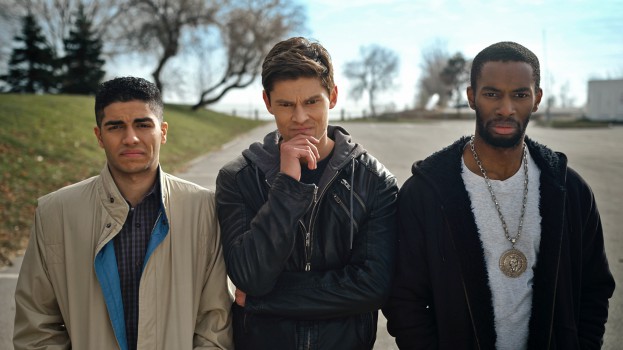 Filmmakers Owen Roth and Devin Knowles never anticipated media titan Disney would play a role in helping their short film get seen.
When Roth and Knowles began casting for their black comedy short Masters in Crime, calling actor Mena Massoud was a no-brainer. They'd first met him when he auditioned for their 2012 webseries Cut to the Chase and the three became fast friends. They reached out to Massoud to pitch a part that was written just for him: one part of a three-person team who plan a heist to steal valuable drugs for the black market. Massoud quickly came on board.
Just a few months after post-production had wrapped up, Roth and Knowles learned that their friend and co-star had been cast in the titular role of Disney's Aladdin live-action remake.
"It's crazy, watching someone [you know] hit that level of success," Roth told Playback Daily.
At the time the producers had begun working on a television series based on Masters in Crime with producer Mary Young Leckie (Maudie), which is still in development, along with some potential indie features. Their immediate thought was whether Massoud's rising star would conflict with future production plans. It was only later that they realized the potential promotion opportunities for the short itself. In fact, it's something they're still reckoning with after Aladdin's May 24 release, which raked in more than USD$110 million at the U.S. box office during its opening week. (As of June 4 the film has grossed more than USD$450 million globally).
Masters in Crime was self-funded by Roth and Knowles under their production banner, Fountaine Pictures. Half of the film's $15,000 budget was provided by Asterisk Media (now titled ICON Motion), with the other half sourced from Roth and Knowles' own savings. Roth says most of the budget went to the cinematography, with the producers doing the art direction, props, casting and post-production work themselves. It was filmed in a number of locations around the GTA, with locations scouted mostly through calling in favours with friends. "We made it because we wanted to showcase what we can do," says Roth. "If you don't make something of high quality, it's hard to get noticed by anybody."
The producers opted to upload Masters in Crime on YouTube rather than find a distributor, wanting as many people to see the short as possible. They've also resubmitted it for short film festivals with the aim of using Massoud's box office success as a draw. "If you go to [Mena Massoud's] IMDb page we're one of the four featured projects," says Roth, referring to the projects in Massoud's "known for" display on his profile. "I'm hoping that will draw people."
For his part, Massoud continues to be supportive of the project. He's promoted the film on his social media platforms, including to his now 1.1 million followers on Instagram. The short was first uploaded on April 11, 2019 and had roughly 3,000 views ahead of Aladdin's theatrical release, according to Roth. Since then, it has reached more than 11,000 views as of press time.
Now Roth can look back and see the experience has become a case of life imitating art, all the way back to when he and Massoud first met. "The ironic thing about the webseries is that it's about a filmmaker whose roommate rises to success at an unprecedented level overnight," says Roth, who points out the added irony that Massoud was not cast as the successful roommate, but the cameraman documenting it. "It turns out he's the one who rose to success overnight."