Alibi goes 'Around the World' with Bell Media in multi-faceted deal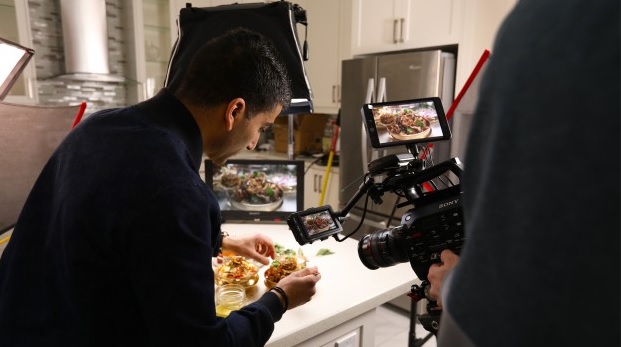 The new branded-content series sees Alibi and Bell Media teaming with turkey brand Butterball Canada.
Turkey brand Butterball Canada is aiming to butter up diverse audiences with a new custom content program, including a one-hour special airing on Bell Media's Gusto tonight at 9 p.m.
Produced by Alibi Content, a division of Toronto's Alibi Entertainment, Around The World in 8 Meals sees celebrity chef Shahir Massoud visiting different families in Canada from various backgrounds and bringing them together to enjoy a traditional ethnic meal – such as Greek or Iranian – that incorporates turkey.
For Alibi Content, which has produced a number of branded series in the past, the project represents the first time it has partnered with Bell Media on original content.
In addition to the special, Alibi brokered a multi-faceted distribution deal with the media company, including OTT streaming on Crave, eight digital episodes on Bell Media's The Lede website, recipes and photography for social platforms and a four-week promotional campaign across a number of the media company's TV channels.
Production house Alibi Content came into contact with the turkey brand by chance, executive producer Jessica Benchemam told Playback's sister publication Media in Canada. The prodco had worked frequently with chef Massoud, who happens to be a Butterball spokesperson. When Massoud mentioned some of the brand's challenges to Alibi, the prodco – which doesn't specialize strictly in branded content – found a way to hit on key points.
Essentially, says Benchemam, turkey is seen by some as an older, white person's food of choice, but doesn't necessarily reflect current Canada.
"New immigrants to Canada typically don't eat a lot of turkey in their native countries," Benchemam explains. "And millennials haven't taken up the idea of having this big turkey dinner at Christmas or Thanksgiving or other holiday meals. There are a lot of people who aren't actively looking at options for turkey for their everyday meals, but this is about showing different communities that they can integrate turkey very naturally into their meals, even the ones they're already eating."
And so was born the series Around the World in Eight Meals. "It's not a giant Thanksgiving turkey every time," says Benchemam. "In fact, we made a point to not do anything like that. It does contain some kind of Butterball product, but it might be something like turkey thighs or turkey breast."
The goal of the series is to show the versatility of the product and emphasize that it is relevant for more than just one kind of Canadian. Benchemam says it was a key goal to make the series very heartfelt and family-friendly.
Alibi has added to its development team of late as it looks to ramp up production on both its branded-content projects and other unscripted titles. Last year the company tapped Heidi Schorn as its new director of development. The company's production credits include Carnival Eats and Sarah Off the Grid.
A version of this story appears in Media in Canada