Canadian Cinema Editors unveil 2019 winners
The ninth annual gala saw editor Lara Johnston win best feature film editing for her work on Mouthpiece, while Dean Balser received the Lifetime Achievement prize.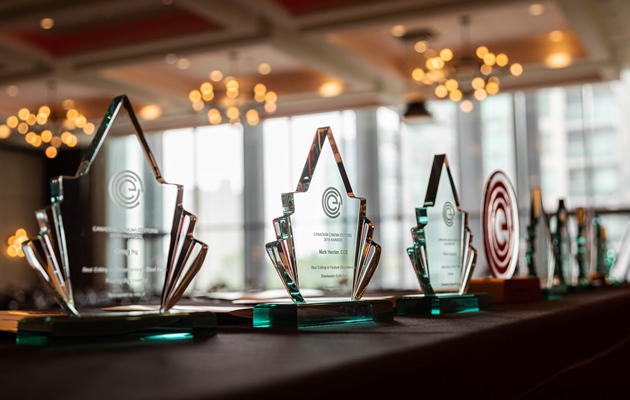 The Canadian Cinema Editors hosted its ninth annual gala on May 30, honouring the expertise of editors behind such projects as Mouthpiece, The Crown and Sharkwater: Extinction.
Hosted by film critic Richard Crouse at Toronto's Delta Hotel, the evening saw Lara Johnston walk away with the prize for best editing in a feature film for her work on Patricia Rozema's drama Mouthpiece and Thom Smalley win best editing in a short film for Likeness.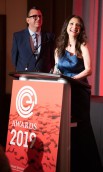 Pia Di Ciaula (pictured left with Crouse), whose credits include A Very English Scandal and the 2008 miniseries Tess of the D'Urbervilles, earned best editing in a TV drama for The Crown's episode "Paterfamilias," while best editing in a TV comedy was awarded to Dev Singh for "Round Seven" of half-hour dark-comedy Little Dog. It was recently confirmed that the show would not be returning to CBC for a third season.
This year's Lifetime Achievement Award went to editor Dean Balser. A longtime editor for Glen-Warren Productions in Toronto, he previously worked on various MOWs, pilots and the series like Night Heat, which was the first Canadian series to be broadcast on CBS.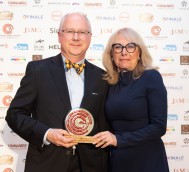 Post-production supervisor Doug Wilkinson (pictured right) also took home the newly created Career Achievement Award, a prize honouring the work of a person who has supported the efforts of Canadian editors over the course of their careers. Some of his credits include Academy Award-winner The Shape of Water, Clara, Crimson Peak and Chloe.
On the documentary front, Nick Hector was feted for his work on Sharkwater: Extinction – winning the show's best feature documentary editing award, while Greg Ng won for Finding Big Country in the short-form documentary section. Additionally, the prize for best editing in a docuseries, docu-drama or factual program went to Ian Sit for the episode "Lido Pimienta" of In The Making, a docuseries from Toronto's White Pine Pictures that tracks the creative process behind some of Canada's top musicians, dancers and visual artists. The series made its debut last September and was greenlit for a second season this March.
Odd Squad: World Turned Odd editor Courtney Goldman took home best editing in family MOW/live-action, while the award for animation was awarded to Space Between Stars' Tom Berger.
Lisa Grootenboer snagged the award for best editing in a MOW/miniseries for Believe Me: The Abduction of Lisa McVey and Michael Tersigni, Mike Scott, Eliana Borsa and Ryan Monteith won for best editing in reality/competition/lifestyle on Top Chef Canada's episode "Que Rico." And finally, best editing in a web-based series went to Ashley Brook, Kyle Cucco and Josef Beeby for Canadiana's "The Love Triangle that Brought Down Quebec."
Emerging talent also received recognition, with the Student Award of Merit going to Sheridan College's Brendan Barnard for After Animals; Ryerson University's Brittany Hockley for Proximity; 14.02 from Centennial College student Raj Jain; Sheridan College's Zachary Roth for Rosie; and finally, Ryerson University's Zhenya Dolzikov for The North Woods.
Images courtesy of Rick O'Brien