CBC highlights commercial-revenue drive at Upfront '19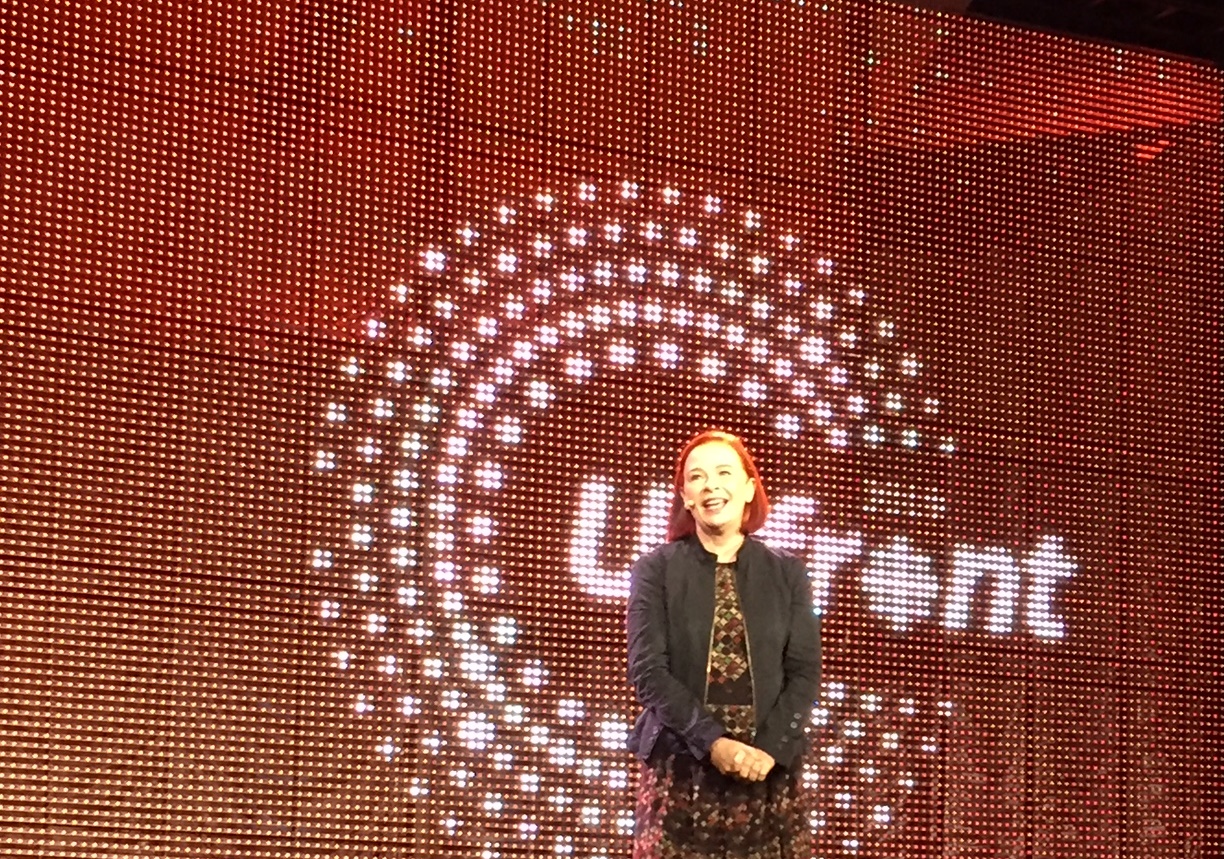 The pubcaster's new-look exec team put a focus on advertiser-friendly programming this year, including Battle of the Blades and Family Feud Canada.
CBC buckled down on its open-for-business status at its 2019/20 Upfront, highlighting key terms like hybrid public broadcaster, product integration and sponsorship during its annual programming presentation to advertisers and stakeholders.
Held at the Mattamy Athletic Centre on May 29, the event marked CBC/Radio-Canada president and CEO Catherine Tait's first Upfront, where she emphasized CBC's interest in expanding its commercial revenue streams. "We are an engine for creativity and diversity in this country. And underpinning our strategy is a renewed commitment to growing commercial revenue," Tait (pictured) told attendees during her speech. "We want to be the masters of our destiny and reinvest in more great Canadian news and programming, and you are all key to this shared future."
The push to attract advertisers comes several days after the release of its new three-year plan "Your Stories, Taken to Heart," which notes that it intends to seek out new revenue opportunities to ensure its financial success. The event also took place a day after Conversative Party Leader Andrew Scheer, in an interview with the Canadian Press, questioned whether the CBC's push for ad revenue is creating a distorting effect on the media market as it competes against private broadcasters.
In a statement, CBC head of public affairs Chuck Thompson told Playback Daily the pubcaster recognizes the struggles private broadcasters are facing as CBC is experiencing the same issue.
"We are expected to earn revenue to support our services and when that happens, it doesn't go to shareholders, it goes right back into more content for Canadians," he said, explaining that CBC provides a wide range of services to all parts of the country as part of its mandate, something others do not do. "When Google and Facebook are taking 75% of all digital advertising revenue in Canada, it's very clear that our competition today is not each other; it's powerful U.S.-based digital companies. Wherever possible, we need to collaborate to compete – work together to support and promote Canadian culture."
Some of the ad-friendly shows spotlighted during the presentation include the return of Battle of the Blades (6 x 60 minutes, Insight Productions), original CBC format Fridge Wars (6 x 60 minutes, produced in association with The Gurin Company) and a local version of long-running American format Family Feud, Family Feud Canada (60 x 30 minutes, Zone 3 and Fremantle), all of which present significant potential for brand integrations and sponsorships. (A Family Feud-style game that closed out the presentation also referenced CBC's focus on growing its commercial revenue streams, with "product integration" and "sponsorship" being answers to the question of "what are the best things about Family Feud Canada?").
Speaking about the pubcaster's strategy for this upcoming season, where it will compete against various private broadcasters for Canadians' attention, general manager, programming Sally Catto says the organization wants to hit the ground running with its new slate. "[We want to] be really upfront and say 'we're a hybrid public broadcaster,'" she told Playback Daily following the presentation. "We're very appreciative and reliant on our government funding – but we need our advertising revenue in order to continue providing the breadth and scope of content that we do."
This year's programming needs to strike a balance between supporting new Canadian originals like Indigenous-led drama The Trickster (Sienna Films, 6 x 60 minutes) and bold comedies like sketch show TallBoyz (Accent Entertainment, 8 x 30 minutes), she noted, while offering fun, entertaining and relevant Canadian content in the factual space that can generate revenue and appeal to sponsors and advertisers. "It's a tall order for sure. But it's a pivot we really need to make for long-term sustainability," she said.
Meanwhile, Barb Williams, who joined the CBC as its new EVP earlier this month, also reiterated that the CBC's model is similar to other public broadcasters around the world, which earn funding by selling shows globally, as well as generating revenue from subscription services (similar to CBC Gem, which offers an ad-free premium membership for $4.99 per month) and renting out studio space to third parties. "There's money in a lot of corners and as a public broadcaster really what we're trying to do is offer the very best and most robust programming opportunity for Canadians that we can. And with a little bit more money you can do a little bit more," Williams said.
Some of the other new projects unveiled at the Upfront include: spy drama Fortunate Son (8 x 60 minutes) from Seven24 Films and Lark Productions; Canada/New Zealand copro The Sounds from Shaftesbury and South Pacific Pictures; Back in Time for Winter (7 x 60 minutes) from 3Bird Media and eOne, a winter adaptation of Back in Time for Dinner; High Arctic Haulers (8 x 60 minutes) from Great Pacific Media; You Can't Ask That (8 x 30 minutes), a CBC Gem series based on an unscripted format from ABC Australia; and blue-chip docuseries Enslaved (6 x 60 minutes) featuring Samuel L. Jackson, a CBC Gem and documentary channel copro with Epix.
Shows renewed at the event include Diggstown (6 x 60 minutes, Circle Blue Entertainment, Freddie Films and DHX Media), which will move into its second season, and season four of Workin' Moms (8 x 30 minutes, Wolf + Rabbit Entertainment). The Great Canadian Baking Show, which was renewed this January will also return with Baroness Von Sketch Show's Aurora Brown and Carolyn Taylor as hosts.