How a simple misunderstanding gave rise to Winnie Jong's Tokens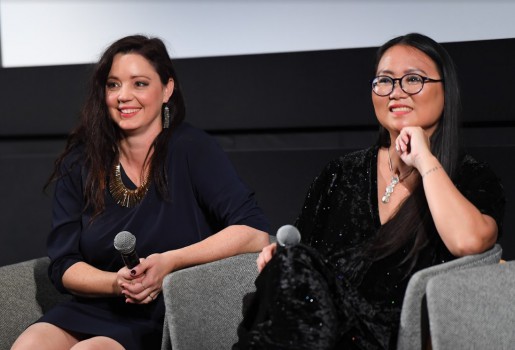 The idea for some projects come after hours of staring at a blank page. For others, it's a passion project that a writer or creator has dreamt of taking into production for years. And then there are others, like Winnifred Jong's Tokens, where a flash of inspiration can come from an unlikely place.
In the case of Tokens – a web series that pokes fun at diversity quotas in the film and TV industry – the concept was borne out of misunderstanding between Jong (pictured right) and a friend who was an on-call server at a Toronto restaurant. During a text-message exchange, Jong thought her friend had said she was working for an on-call casting agency, which got the cogs turning in her brain. From this initial exchange, Jong developed the web series about an on-call casting agency that helps desperate producers meet their diversity quotas when they're in a bind.
Getting the project off the ground wasn't easy, with Tokens getting to advanced stages with the IPF, Sundance Institute's YouTube New New Voices Lab and Ontario Creates before being declined funding. Undeterred, Jong and her producing partner Trinni Franke (pictured left) continued to forge ahead with the project, eventually making the crucial breakthrough when the Bell Fund – which has recently seen its mandate shift toward supporting web series – signed on to fund the series.
Since then, the momentum has gathered swiftly for Tokens and its director Jong.
Shot last November, the eight-part webseries was made on a budget of around $250,000. Jong and Franke used their connections to cast a number of well-known Canadian actors including Shelley Thompson (Trailer Park Boys), Sharron Mathews (Frankie Drake Mysteries), Ryan Allen (21 Thunder), Connie Wang (Second Jen), Daniel Maslany (Murdoch Mysteries, Four in the Morning) and Russell Yuen (Blood and Water). The eight-day production stint was delayed slightly as Jong completed a directing gig on CBC's Coroner, which at the time was the first hour-long drama episode she had helmed. She has since also gone on to direct an episode of the upcoming Global drama Nurses (working title).
Tokens gathered further momentum when it won the Prime Time Throwdown at CMPA Prime Time earlier this year. The award, for best innovation in audience building, brought with it $10,000 in in-kind services supplied by strategic marketing firm Innovate By Day. Most recently, the project was nominated for a Diversity Story Spotlight Achievement Award by TO Webfest.
When it launched earlier this month, the project's premiere screening was accompanied by a panel discussion featuring Jong and Franke, as well as CBC's executive in charge of production, drama, Melanie Hadley and ACTRA diversity co-chair Samora Smallwood. Held at TIFF Bell Lightbox and produced by Judy Lung, the event saw panelists discuss the state of diversity and inclusion in the Canadian film and TV sector in 2019.
Jong, a longtime script supervisor on series including X Company and Frankie Drake Mysteries, has transitioned into a writer/director role over the past two years. Now, Jong and Franke are hoping to parlay this momentum into new projects and a new company.
Through their recently formed entity, A Token Entertainment Company, Jong and Franke are looking to expand the Tokens universe and develop other IP. On the Tokens front, the pair are developing a second season of the project, as well as pitching it to networks in both Canada and the U.S. as a half-hour TV series. The duo are also developing a feature project through A Token Entertainment Company.