CBC retools Battle of the Blades for 2019 return
The original Canadian format returns this fall, five years after its initial cancellation, in a drastically different TV environment than the one in which it was conceived.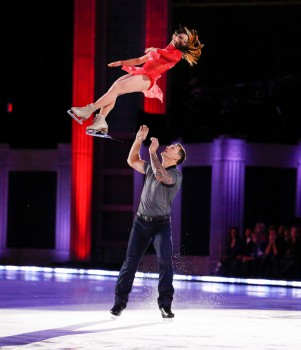 Ten years ago, an unscripted series called Battle of the Blades captured the nation's imagination with its not-so-subtle blend of two quintessentially Canadian pastimes: hockey and skating. (Three if you include Bryan Adams, who sang the show's theme song.)
The Insight Productions show paired figure skaters and hockey players in a series of on-ice challenges, with the victorious pair donating the winnings to charity.
It became that rarest of things: an original Canadian format that posted consistently stellar ratings, had broad appeal and carried momentum into subsequent seasons.
But, after posting record viewership for a Canadian format – records that remain to this day, according to CBC – the pubcaster suffered deep cuts to its operating budget. After its third season, Blades went on a two-year hiatus as CBC attempted to figure out a path forward. The fourth season arrived in 2014, but the comeback was short lived and CBC axed the show indefinitely as it continued its cuts.
For Insight chairman and CEO John Brunton, the nature of the cancellation left a lingering sense that the book hadn't been closed on the show. And now, with season five greenlit earlier this year for a fall return, he says there's more than a little unfinished business to attend to.
"We've just started to scratch the surface creatively in terms of what we felt like we could do with the format," he tells Playback.
As for the timing, CBC's unscripted head Jennifer Dettman says the pubcaster has evaluated the series for the past three years, waiting for an opportune moment to bring it back. For a number of reasons, the time is now.
The first, says Dettman, is a marked shift toward "positive and celebratory" programming. Another is that the global profile of figure skating has grown in recent years, with younger audiences migrating toward the sport and its stars. And, well, hockey's still hockey in Canada.
That attraction will translate well for Blades, says Brunton, as it re-enters a TV landscape almost unrecognizable from the one in which it was conceived.
In that regard, Blades' return serves as an interesting case study: can it gain the same level of traction, or more, in an increasingly fragmented viewing landscape? And, while foreign adaptations and sales proved elusive during its initial run, will a rise in popularity for both skating and hockey make the new incarnation an easier sell?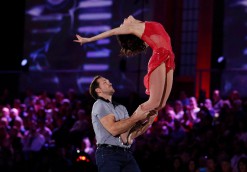 In a global context, Brunton feels a deeper pool of buyers – coupled with a wider base of skating and hockey stars – stacks the cards in Blades' favour. But, perhaps surprisingly, format sales aren't necessarily top of mind. "We're hoping ours will be a North American-wide version that will appeal elsewhere because of the international stars we cast," he says of the intention to sell the finished-tape version into the U.S. and Europe.
And, while finished-tape sales are the primary ambition with the rejuvenated format, Insight is also looking to shepherd adaptations in countries like Finland, where Aito Media recently acquired the format rights. During the show's initial run, Insight had also been in talks with a number of European casters about doing a pan-territory version of the show. Though that version never materialized, Brunton says Insight will look to "reignite" the multi-country adaptation in 2019.
At home, meanwhile, Dettman says the plan is to expand the social media strategy by shining a light on "mini Blades," where kids across the country take part in Blades-like challenges in local arenas. During its initial run, there was a "grassroots movement" that formed around the show, she says, and the new incarnation will seek to pull more of those local stories into the on-air broadcast. The idea of developing a junior version of the format is also being discussed, notes Brunton.
But, beneath the format tweaks and sales aspirations, the goal remains the same: to combine two of the country's most beloved activities for a broad-appeal hour of icy fun. "It's about as Canadian as you can get," he says.
This story originally appeared in the Summer 2019 issue of Playback magazine