Canada's Worst Driver ends after 14 seasons
Launched in 2005, the format adaptation became one of the longest-running unscripted series in Canadian television.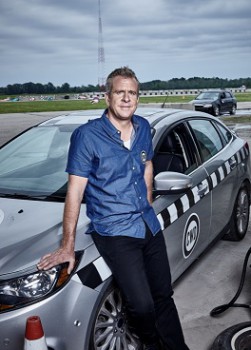 After 14 seasons on the air, Discovery's unscripted format adaptation Canada's Worst Driver is to end.
Host and executive producer Andrew Younghusband announced via his Facebook page that the series would not go a 15th season. The cancellation was subsequently confirmed by Bell Media.

"It is with equal parts pride and humility, sadness and joy that I am writing to inform you all that Canada's Worst Driver is officially finished. Done. The great runaway hit has finally crashed and burned," said Younghusband in the post. "I had really hoped we would get to do a 'Goodbye' season to end the series with a tip of the hat to the faithful audience, but alas, we are simply done without any fanfare."
Canada's Worst Driver, a local adaptation of the U.K. format, debuted in 2005 and ran for around 110 episodes across 14 years. The format sees drivers, each of which have been put forward by family members or friends, compete in a series of challenges to avoid the unfortunate title of "Canada's worst driver." In reaching its 14th season, the series is somewhat of an anomaly in the Canadian unscripted landscape, with only a handful of other series managing to retain audiences over such a sustained period of time.
The format was brought to Canada by the late Guy O'Sullivan, a British producer who founded Proper Television in 2005 and built it into one of Canada's most successful unscripted production companies. O'Sullivan had directed the British version of the series, which aired on Channel 5 in the U.K. for two seasons (2002 to 2003).
During its run, Canada's Worst Driver was consistently one of the top-rated series on Discovery. In a statement, Bell Media praised Younghusband, the team at Proper Television and the crew for their work on the series. "The success of this show is a testament to their dedication, passion, and drive and we thank everyone for their hard work over 14  years and 115 episodes," read the statement.
"The biggest thanks of all, of course, goes to our late, great leader Guy O'Sullivan," added Younghusband. "He started a production company based on the single sale of season one of [Canada's Worst Driver] back in 2005, and that company, Proper Television, still thrives today."
The news about Canada's Worst Driver comes a year after Discovery cancelled its longest-running property Daily Planet, which ran for an estimated 4,600 episodes between 1995 and 2018. At the time, Bell Media cited "growing international competition, evolving viewing options, and an uncertain regulatory framework" as the reason for the cancellation. Last fall, longtime Discovery exec Ken MacDonald stepped down as GM and VP of the Bell Media-owned network. Discovery was subsequently realigned under the remit of Bell Media's content and programming president Mike Cosentino, while veteran Discovery exec Edwina Follows was upped to GM of Discovery Networks.