Deals: Prospero, Scythia, Wattpad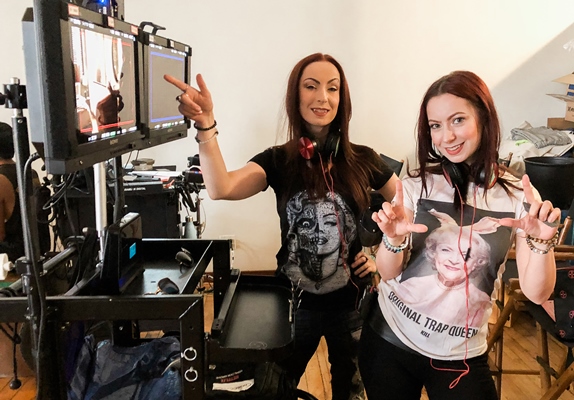 Prospero signs a first-look deal with the Soska sisters, Sierra/Affinity boards Scythia Films' Slash/Back, and more.
By Lauren Malyk and Kelly Townsend
Prospero Pictures
Jen and Sylvia Soska have inked a first-look deal with Martin Katz's Prospero Pictures. The agreement with the duo's Twisted Twins Productions gives Prospero the exclusive first rights to any film and TV projects created, developed, written and directed by the pair. Prospero Pictures is a longtime producer on David Cronenberg films, including Maps to the Stars (2014), Cosmopolis (2012) and A Dangerous Method (2011). Outside of his work with the writer/director, Katz has served as an executive producer on Oscar-nominee Hotel Rwanda starring Don Cheadle, director Leo Scherman's WWI thriller Trench 11 and Amy Jo Johnson's sophomore feature, dark comedy Tammy's Always Dying. This deal follows the twins' most recent project Rabid, a remake of Cronenberg's classic 1977 horror film. The remake follows a seamstress (played by Jigsaw's Laura Vandervoot) who undergoes a radical transformation after getting plastic surgery. The original film followed a young female motorcyclist. Back 40 Pictures produced the remake, which was written and directed by the sisters and John Serge.
At the European Film Market earlier this February, Film Mode Entertainment struck a number of deals for the film with Eagle Films picking up the rights in the Middle East; Fox for Pan Asia; Splendid Film for Germany and Benelux and Vertex Partners for CIS. In 2017, A71 Entertainment picked up the Canadian rights to Rabid. In addition to Rabid, Jen and Sylvia's previous projects include Blumhouse-produced horror game show Hellevator, American Mary, Vendetta, See No Evil 2 and the ABCs of Death 2.
Scythia Films
Sierra/Affinity has boarded Scythia Films' sci-fi film Slash/Back. The international sales outfit will be shopping the film at Cannes. Slash/Back follows a group of girls from the Arctic who fight against alien invaders with makeshift weapons and horror film know-how. The film is produced by Mixtape VR's Nyla Innuksuk, Red Marrow Media's Stacey Aglok Macdonald, Scythia's Daniel Bekerman and Ethan Lazar, and Stellar Citizens' Christopher Yurkovich and Alex Ordanis. Innuksuk and Ryan Cavan have penned the script. Producers previously shopped the film at the Berlin international market. Scythia and Stellar Citizens first formed a strategic partnership in 2017 to develop seven film and TV projects.
Wattpad
L.A.-based Voltage Pictures is at Cannes shopping a sequel to the Wattpad-story-turned-feature After. Wattpad Studios is on board to produce the film, which was adapted from the popular young adult novels from Anna Todd, originally written as fan fiction on the online publisher. To date the story has garnered more than 564 million reads on Wattpad. Wattpad's Aron Levitz and Eric Lehrman will produce alongside Todd, Offspring Entertainment's Jennifer Gibgot and CalMaple's Mark Canton and Courtney Solomon. Executive producers on the project include Voltage's Nicolas Chartier and Jonathan Deckter and Panay Films' Andrew Panay. Todd and Mario Celaya have written the script and no director has been confirmed yet.