Scott Brothers Entertainment to be honoured at 2019 Rockies
The prodco will receive the Innovative Producer Award at the BANFF ceremony, while additional winners include Kristin Kreuk, Paul Feig, Jed Mercurio and Bill Hader.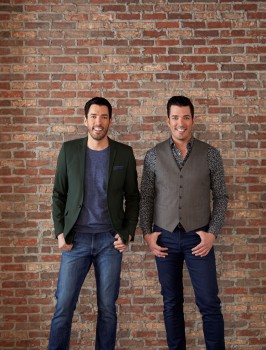 The Banff World Media Festival (BANFF) has announced the special award winners for the 2019 Rockie Awards Gala, with Scott Brothers Entertainment taking the Innovative Producer Award.
The award, which celebrates the achievement of independent prodcos in TV and digital media, will be presented to Drew and Jonathan Scott at the June 11 ceremony. It has previously been given to companies such as New Metric Media and Don Carmody TV.
The 2019 Canadian Award of Distinction is awarded to a Canadian "whose body of work exemplifies outstanding achievement in the entertainment industry," and this year will be presented to Burden of Truth actor Kristen Kreuk. Previous recipients include Sheila Hockin, Eric McCormack and Kim Cattrall.
Writer, director and producer Paul Feig will be the recipient of the 2019 Award of Excellence, with past winners including Jeremy Podeswa, Norman Jewison and David E. Kelley. Bodyguard and Line of Duty creator Jed Mercurio will receive the Showrunner of the Year award, joining the company of Moira Walley-Beckett, Jill Soloway and Damon Lindelof.
Dear White People creator Justin Simien will be awarded the Hollywood Reporter Impact Award, Barry creator Bill Hader will receive the Sir Peter Ustinov Comedy Award, and the team behind Surviving R. Kelly – Kitti Jones, Brie Miranda Bryant and Tamra Simmons – will accept the A+E Inclusion Award.
The awards will be presented at the Rockie Awards Gala in BANFF on June 11 with JANN co-creator and star Jann Arden set to host. The Grand Jury Prize and Program of the Year will also be presented at the gala. Meanwhile, the Rockie Awards International Program Competition will take place on June 10, with Workin' Moms star Juno Rinaldi to serve as host.
BANFF runs in Alberta from June 9 to 12.