How Mary Kills People helped Marsha Greene grow
The writer/producer and Tassie Cameron reflect on how the drama came together and teaming up as co-showrunners on its final season.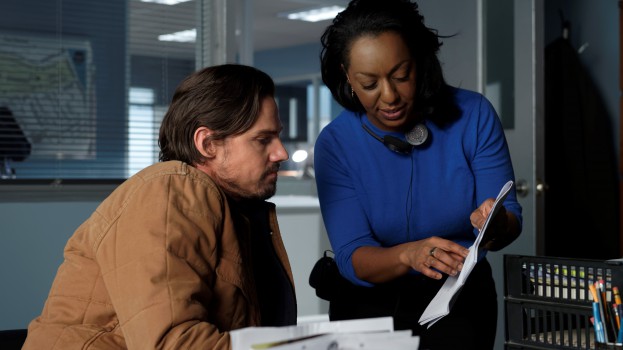 The end of Mary Kills People has put writer/producer Marsha Greene at the top of her game.
Greene, who first started out as an executive story editor, then a producer and now, a co-showrunner has had a "meteoric" rise on the drama's creative side – an ascension she says couldn't have happened without the support of fellow co-showrunner Tassie Cameron.
"It's the great value of staying on a show because not only do you get to stretch yourself creatively, to keep coming up with new stories, but you gain new skills and advance," Greene told Playback Daily ahead of the season-three premiere last Sunday. Even though the newly-minted co-showrunner says she initially felt she still had a lot to learn, she's grateful to have had Cameron, an experienced showrunner with credits like Rookie Blue, by her side to help.
Created by Tara Armstrong, then a fresh-faced UBC graduate, the series follows Dr. Mary Harris (played by Hannibal's Caroline Dhavernas), an ER doctor and single mother, who in her downtime helps patients with their medically assisted deaths. (The show came out around a time where doctor-assisted euthanasia was hotly debated in Canada.)
Season three, which was officially announced this January, catches up with Harris and her partner as they face complications while running their newly established, and long dreamt-about hospice centre or "death retreat." Shooting for the first time in the Toronto cold, the duo also notes this season sees the thriller draw inspiration from star Dhavernas' recent pregnancy, incorporating an impending baby into her character's arc.
Another creative choice? This is the show's third and final season. A decision that came naturally for the Mary Kills People team according to Cameron and Greene. There was something pleasing about a "trilogy" feeling and giving Harris' story "a beginning, middle and end," according to Cameron.
Produced by Cameron Pictures and eOne in association with Corus Entertainment, the show has come a long way since its first season, when it was greenlit off of a script by Armstrong. Reflecting on how the drama has evolved, Cameron says following its prompt order, she and Armstrong had to quickly craft a six-episode season, somewhat unsure about where the story would go. Shortly thereafter, Greene's name came up for the writers room due to her past work with Armstrong and Cameron on another Corus show, Private Eyes. Mary Kills People gave her an opportunity to continue to collaborate with Cameron and Armstrong.
As Women in View's most recent "On Screen Report" notes, such collaborative relationships are key to having greater representation of women in film and television. The report found that, when it comes to showrunners, TV series led by women achieved gender balance in 2017 (coming in at 53%), with significantly more women working in writing, directing and DP roles. This is an improvement, albeit a slow one, in terms of female representation in the industry. The report also found that women received more TV writing, directing and cinematography contracts in 2017 (28%) compared to 2014 (17%), while women in key creative TV roles increased to 11%. That said, diverse women in the industry continue to be an anomaly with only 47 TV contracts out of 3206 going to women of colour and Indigenous women only receiving 0.69% (or 22 contracts) for Canadian series studied between 2014 and 2017.
Moving into season three, one of the biggest changes for the creative team is the absence of Armstrong, who moved to L.A. after season two, ultimately leading to Greene stepping in. "Every step of the way, Marsha and I were working to honour what Tara had created," said Cameron, whose showrunning credits also include Ten Days in the Valley, another project that saw Cameron and Greene work together. "Tara created the world, the characters, the tone, which is very unique. I think her voice and her taste were in our minds all the way through."
Speaking about her experience stepping up to the plate to work with Cameron as a co-showrunner, Greene says she feels lucky that her first job as showrunner was on the series, especially with Cameron. "I basically felt like I'm really set up for success there. Tassie won't let me fail. But she also gave me a lot of chances to be a part of it and to make creative decisions and we really did it hand-in-hand all the way through," she said.
Exec producers on season three include Dhavernas, Greene, Cameron and her sister Amy and Jocelyn Hamilton and Tecca Crosby for eOne. The show's financing partners include the Canada Media Fund and federal and provincial tax credits. Episode two of Mary Kills People's final season airs on Global TV this Sunday at 8 p.m. EST.
Image of Marsha Greene and actor Jay Ryan courtesy of eOne