The Scott brothers' journey from talent brand to powerhouse prodco
How the most famous duo in lifestyle changed the perception of their company to become one of the most prolific unscripted prodcos in North America.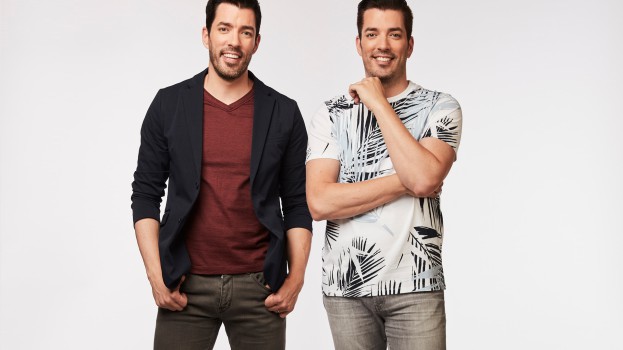 When Drew and Jonathan Scott began building out their production company eight years ago, they repeatedly encountered the same problem.
They were able to get into almost any room, but many of the key decision-makers they met wanted the same thing: a show with "The Property Brothers" in it.
"In the beginning people saw us as a talent brand that was trying to produce content and not taking us seriously as a production company," Drew Scott tells Playback Daily. "The first thing they would say is 'how can we have a show with you and your brother?'"
The Vancouver-born twins made it a priority to change that perception, building out their development slate with savvy unscripted concepts and formats that didn't necessarily feature them in starring roles. They also bolstered the executive team at Scott Brothers Entertainment (SBE) with key hires such as Alliance Atlantis and General Purpose Entertainment alum Josie Crimi, who serves as EVP of development and production. Project by project, they've made broadcasters, producers and talent on both sides of the border recognize their versatility and business savvy behind the camera.
That focus on being more than simply a talent brand also enabled the brothers to branch outside of the home reno space into food (Menu Match-Up), competition (All Star Halloween) and travel (Half Price Paradise). They also plan to launch a documentary on solar energy later in the year. And from a startup that produced around 10 hours of content a year, SBE has more than tripled in size in recent years. It now produces more than 70 hours of content annually from its Toronto production base and employs more than 40 full-timers in its Toronto office.
Recent shows include an expansion of their flagship franchise Property Brothers: Forever Home, which premieres later this month on HGTV in the U.S. and HGTV Canada. There's also Nate and Jeremiah by Design (TLC) and Make Your Move (a renovation series starring Dave and Kortney Wilson and set to debut later this year on HGTV Canada).
But perhaps nothing is more emblematic of their transition from talent brand to full-service production outfit than a new deal, announced earlier this week, under which SBE took greater control of its flagship title, Property Brothers. Under the new IP deal, SBE obtained the production rights for all future projects under the Property Brothers franchise moniker. Cineflix, which produced previous seasons of the show, will have continuing financial and distribution participation in future productions under the franchise banner.
While growing the production side of the business has been a core focus, having recognizable faces certainly doesn't hurt, either – especially in a reality TV market that increasingly demands big-name stars. In this regard, Jonathan and Drew have become a useful asset when it comes to attracting and attaching bankable personalities to their series. "Talent has always been the most important part, but now we're being asked a lot more about bringing big names to the table, to draw eyeballs in and bring followers to the shows," said Crimi. "We recently met with a lot of broadcasters in New York, and having a big name attached seems to be the need from everyone."
Among those names is Saturday Night Live's Leslie Jones, who fronted the SBE-produced Facebook series Leslie Jones' Home. The show, which sees Jones giving her New York apartment a makeover, launched earlier this year.
The prodco's ambitions aren't confined to unscripted, either. On the scripted side, the Scott brothers are in development on a single-camera comedy based on their bestselling memoir It Takes Two: Our Story. The project, produced by The Tannenbaum Company, in association with Lionsgate Television and SBE, follows entrepreneurial twin brothers who join forces in the real estate business.
Animation is on the cards as well, with SBE in development on an animated series as it looks to expand into the kids space. And don't rule out feature film, which Drew Scott said is among his ultimate industry ambitions. "One of my passion projects is directing my first feature film – that's what I've always wanted to do," he said.
The SBE team won't get ahead of themselves when it comes to building out these new lines of business, emphasizes Drew Scott. As with SBE, they'll build things at a steady pace. "We want to do it slow and steady, and not jump into anything too quickly. We want to make sure we're doing things in the right way."