Sphinx, NFB set The Colour of Ink
The documentary from director Brian D. Johnson (pictured) also sees Anthropocene's Nicholas de Pencier serve as director of photography.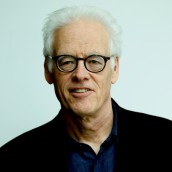 Ron Mann's Sphinx Productions has teamed up with the NFB to produce journalist and film critic Brian D. Johnson's upcoming documentary, The Colour of Ink.
Exec produced by Mann and the NFB's Anita Lee, the film follows the history and process of ink-making through the work of Toronto-based artist, author and graphic designer Jason S. Logan, who uses natural pigments from unlikely landscapes like the Arctic for his work.
Johnson (pictured) serves as a writer, director and producer on the doc, while, NFB producer Lea Marin is a producer on the project.
The Colour of Ink is Johnson's second full-length feature after documentary Al Purdy Was Here (2015) and marks Mann's follow-up project to Carmine Street Guitars.
Also produced by Mann's Sphinx banner, Carmine Street Guitars follows a custom guitar maker and his apprentice in their Greenwich Village shop. The documentary made its world premiere out of competition at the Venice International Film Festival, later screening at TIFF, the New York Film Festival, the FIN Atlantic International Film Festival and more.
Additionally, Anthropocene: The Human Epoch's Nicholas de Pencier serves as The Colour of Ink's director of photography. De Pencier and the team behind the sustainable doc had a great run in 2018 as Anthropocene made its world premiere at TIFF, was one of the top 10 Canadian film at the domestic box office and had museum exhibits to coincide with its release. Most recently, the film earned the TFCA's 2019 Rogers Best Canadian Film Award.