WIFT-T unveils 2019/20 board
Shaftesbury's recently appointed VP, global brand strategy is among the newly elected members on the not-for-profit's board.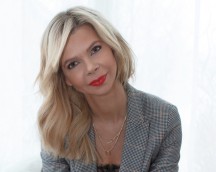 Women in Film & Television – Toronto (WIFT-T) has welcomed three new directors to its 2019/20 board, bringing execs from Blue Ant Media, Shaftesbury and Secret Location into its fold.
Announced at the not-for-profit's annual general meeting earlier this week, newly elected members joining WIFT-T's board include: Blue Ant Media head of original content, Canadian media Sam Linton; Shaftesbury's recently appointed VP, global brand strategy Dylen Postnikoff (pictured); and Secret Location exec producer and head of production services Noora Abu Eitah. This news follows the February announcement that Karen Bruce will serve as WIFT-T's new executive director, taking over the position from long-time head Heather Webb.
The trio joins board chair Jocelyn Hamilton, president Canada, eOne Television; treasurer and vice-chair Linda Stregger, senior director of finance and business development at Spin Master; secretary Sonia Brar, VP, information technology at Bell Media; Corus Entertainment production exec Susan Alexander; Sticky Brain Studios' Sasha Boersma; CBC Comedy senior director Michelle Daly; Bob Lake Productions co-founder Susan Karnay; writer/director Gloria Ui Young Kim; DHX Media chief commercial officer Anne Loi; IPF CEO Andra Sheffer; and finally, Verite Films president and co-founder Virginia Thompson. Hamilton, who is in her final term on the board, will continue on in her role as chair.
Meanwhile, Toronto Blue Jays director of finance Janet Chant has been appointed to WIFT-T's Foundation. The 2019/20 board consists of chair Alex Lalonde, VP, business affairs and operations at New Metric Media; secretary-treasurer Stregger; writer, exec producer and director Helen Argiro; lawyer Terry E. Markus; and consultant Marilyn Orecchio.
Finally, in a press release, the organization thanked outgoing WIFT-T board members, New Metric's Lalonde, Buchli Goldstein LLP partner Christina Buchli and CBS International's director of client relations Rekha Shah, for their service.