How the Pacific Screenwriting Program is cultivating B.C. scribes
Following the wrap of the initiative's first Scripted Series Lab, chair Brian Hamilton discusses what's next for the not-for-profit.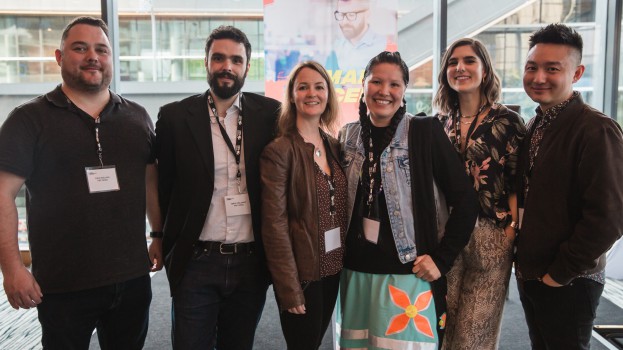 For Brian Hamilton and the team behind the Pacific Screenwriting Program, success is defined by various metrics. "One of them is if a project gets set up, bought, developed by Netflix or other buyers," the PSP chair and Omnifilm Entertainment principal and exec producer told Playback Daily. "Another sign of success for the participants is to get hired into a writers room, [and] another sign is to get an agent."
Officially founded in August 2018, the PSP offers career advancement opportunities for B.C.-based writers – all while being backed through Netflix's $25 million development fund and supported by organizations like Creative BC, the CMPA and the WGC, which provides strategic guidance for the not-for-profit.
As of last week the initiative hit two milestones: its inaugural Scripted Series Lab (SSL) officially wrapped and one of its first six students landed a gig as a script coordinator on season two of Vancouver-shot Netflix series The Order.
Introduced when the PSP launched, the full-time lab is PSP's 14-week flagship training program, offering a select cohort of up-and-coming screenwriters a variety of workshops, development opportunities for their own original scripted TV pilot and the opportunity to collaborate on an original series concept with an established showrunner.
A longtime community effort for the B.C. industry, when the SSL opened up its doors for applications last August it received a total of 137 applications for these six coveted spots, demonstrating a pent up demand for this kind of program, according to Hamilton.
Over the course of 10 weeks, participants worked with Cardinal showrunner Sarah Dodd on a project in a similar vein to the hit procedural, mapping out and writing all six episodes of the show. "It's interesting because never in my career have I walked into a story room with my own original material and worked with five writers I've never worked with before," she said, noting that the SSL allowed her to tap into fresh ideas she never would have thought of.
Because of the way the PSP is structured, Hamilton says the not-for-profit does not hold any rights or monetary participation in creative products that come out of the school. "For example, Sarah has all the rights necessary to her project to go out and help it get made in whatever fashion needs to happen," said Hamilton, who also serves as vice-chair, public affairs on the CMPA's board of directors.
Hamilton also credits the early-stage success of the PSP to the relationships it has in the B.C. community, hosting guest speakers like Jann showrunner Jennica Harper; The Order's Dennis Heaton, who serves on the PSP's steering committee; Unspeakable's Robert C. Cooper, who is also a member of the PSP's board; and Caper creator Amy Berg (who is also working on Vancouver showrunner Simon Barry's Warrior Nun Netflix series), all opportunities for both the wider community and the SSL. Barry, himself, is also credited as being part of the PSP's steering committee, while his Reality Distortion Field banner is one of the organization's supporters alongside Hamilton's Omnifilm Entertainment, Lark Productions, Bron and Skybound North.
Although the PSP recently launched a sold-out one-day Script Coordinator Workshop (which the PSP team hopes to extend into two-day workshops) and a joint fellowship with the Toronto Screenwriting Conference to bring mid-career writers to the conference, Hamilton says the PSP has the ambition to do more short and long-term programs – this time targeting areas like feature film screenwriting, different genres potentially in the kids and non-scripted space and serve more levels of writers in the local industry.
"People who get to a certain level in their career [here], run into lots of temptations for them to move to other cities to participate in writers rooms that do not take place in Vancouver. We're always fighting that temptation of a brain drain," he said. "Yes, we need to graduate more new writers into the system but we need to train and retain more mid-level writers as well."
Image of the PSP's first SSL cohort courtesy of the PSP. L to R: Todd Ireland, Michael Orlando, SSL showrunner Sarah Dodd, Petie Chalifoux, Kat Sieniuc and Corey Liu.