Sienna Films, Helen Shaver roll on Happy Place
The film adaptation of Pamela Mala Sinha's play marks Shaver's feature directorial debut.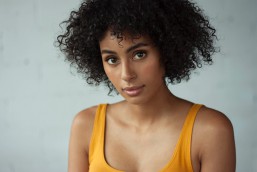 Production is underway in Parry Sound, ON on Happy Place, the feature film adaptation of Canadian actor Pamela Mala Sinha's second play.
Produced by Sienna Films in association with Orphan Black and Vikings director Helen Shaver, the film is based on Sinha's play of the same name. Penned by Sinha, who is also set to star, Happy Place follows Clark Backo (pictured) as a woman who enters a private mental health clinic after a suicide attempt. It will also explore the lives of seven different women at the facility.
Developed for the stage by Sinha, Happy Place made its world debut as part of Toronto-based Soulpepper Theatre Company's program in 2015. According to a release, Shaver started working on the project three years ago, assisting with the script's development. Although the exec producer's directing credits include episodic work like Anne With An E, 13 Reasons Why, and Travelers, Happy Place marks her first time directing a feature film.
Happy Place was commissioned by CBC Films through its fund for female and diverse Canadian filmmakers and will be for English-language Canadian broadcast and streaming. Vancouver-headquartered Pacific Northwest Pictures (PNP) will distribute the feature domestically.
Producers on the project include Andrew McCann Smith and Sienna Films' Julia Sereny, Jennifer Kawaja and Elise Cousineau. Happy Place stars Sinha, Marie-Eve Perron, Tara Rosling, Liisa Repo-Martell, Sheila McCarthy and Mary Walsh.
Happy Place received support from Telefilm Canada, the Northern Ontario Heritage Fund Corporation, Ontario Creates and assistance from the Ontario Film and Television Tax Credit and the Canadian Film or Video Production Tax Credit.
In addition to Happy Place, Sinha's latest play New serves as the inspiration for her limited series NEARVANA, a project currently in development with Sienna Films and Filmshow. New will make its world premiere in fall 2020.