Crave puts spotlight on LGBTQ content
The Bell Media streamer has partnered with Inside Out to launch an LGBTQ content collection that will house queer content from across its portfolio.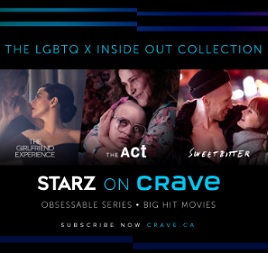 Bell Media streamer Crave is putting a spotlight on LGBTQ content via a new partnership with Inside Out.
Starting today, Crave has launched a new LGBTQ x Inside Out collection where all LGBTQ content (from across brands like Starz, HBO and Showtime, as well as film content) will be housed.
The launch of the new collection, which includes Starz series such as Vida, comes three weeks ahead of the 2019 edition of Inside Out's Toronto LGBT Film Festival, which starts May 23. While the new collection will live on Crave permanently, it will be moved to a more prominent position on the streamer's interface a week ahead of the festival.
Director of programming Andrew Murphy told Playback Daily the launch of the new collection is part of Inside Out's ongoing strategy to expand its year-round programming and its visibility in the Canadian market.
"As a festival, we're learning that what keeps specialty festivals like ours special is the experience that people have during the festival itself. But then the question becomes, 'how do you keep that momentum and keep that experiential feeling through the rest of the year?'. These are some of the ways we're able to do it," he said.
Bell Media VP of communications Scott Henderson added that the partnership "allows us to play a small part in this big cause."
In addition to the launch of the collection, Bell Media's Starz has also signed on as the premier sponsor for the 2019 edition of the festival. As part of that, Starz will present a two-episode screening of the first two episodes of Vida season two. Starz is also sponsoring the festival lounge, which includes its third annual LGBTQ finance forum.
Inside Out is set to announce its 2019 lineup later this week.