Carter kicks into gear on season two
Production is underway in North Bay, ON on a new round of episodes for the procedural.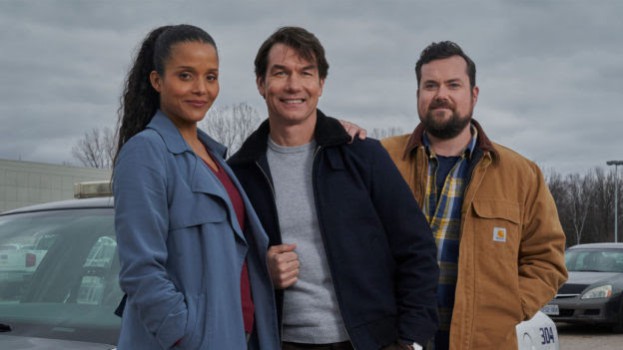 Production is underway in North Bay, ON on season two of Amaze Film + Television's comedic procedural, Carter.
Commissioned by Sony Pictures Television for AXN and by Bell Media for Canada, Carter stars Jerry O'Connell as actor Harley Carter, a star of a hit detective series who returns to his hometown after a public incident. While back, he gets roped into various real-life mysteries. Recently, O'Connell received a CSA nomination for Best Lead Actor, Drama Series for his role on the show.
Season one of the half-hour series made its premiere on Bravo in May 2018, later joining CTV's summer lineup. Season two of the procedural will see the character double-down on more mysteries, while dealing with a love triangle between his best friend and her new boss.
Similar to season one, Carter's sophomore season, which was greenlit this January, will return for 10 episodes. The upcoming season will be broadcast on Bravo in Canada later this year and return to AXN (where it's broadcast in Spain, Latin America, Brazil, Japan, Central Europe and Russia) and WGN America in the U.S.
According to Numeris data provided by Bell Media, season one of Carter made Bravo the #1 entertainment specialty channel in its timeslot last year. Additionally, WGN America previously said the procedural was its most-watched original series in 2018. Meanwhile, according to AXN, the show reached a total of 6.5 million viewers across Europe in 2018.
Exec producers on Carter's sophomore season include O'Connell, Amaze co-founders Teza Lawrence and Michael Souther, series creator Garry Campbell and season two showrunner Andy Berman, whose credits include Psych and Rosewood. Bell Media's Gosia Kamela serves as a production exec.
Season two sees the addition of Lyriq Bent to its cast and the return of Sydney Poitier Heartsong, Kristian Bruun and Brenda Kamino. Outside of Canada, Carter is distributed by SPT worldwide.