Cardinal, Schitt's Creek scribes earn top TV prizes at WGC awards
Wynonna Earp creator Emily Andras (pictured) was honoured with showrunner of the year and the guild announced a new bursary in honour of Denis McGrath.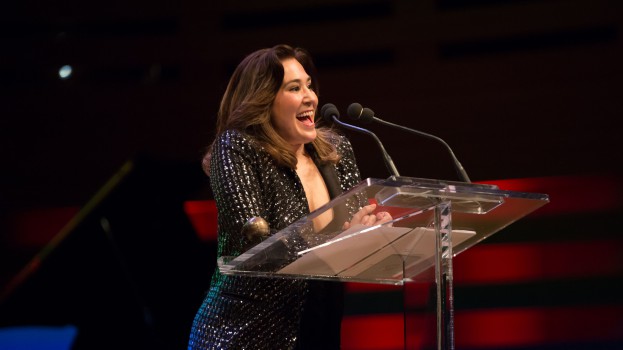 Canada's screenwriters had their moment in the spotlight as Sarah Dodd and Rupinder Gill picked up the top TV honours from the Writers Guild of Canada (WGC) awards on April 29 at Koerner Hall.
Dodd picked up the drama series award for Cardinal while Gill won in the comedy category for Schitt's Creek. Meanwhile, Daegan Fryklind earned Best New Series Script for The Bletchley Circle: San Francisco.
The WGC Showrunner Award was given to Wynonna Earp creator Emily Andras, who, in her acceptance speech, acknowledged that it's a strange time to receive the award while her series is in production limbo. "Our show is not currently in production. We have been ordered for two more seasons by our wonderful networks Syfy and Space, but due to something called 'money' we're struggling to get going, but I know we will," she said. "I truly feel that I could not make the show anywhere else but Canada. I'm so happy Canadian genre is on the map and being celebrated worldwide."
The Denis McGrath Service award was picked up by Street Legal showrunner Bruce Smith for his volunteer time working on collective agreements for the guild. He spoke about the pay inequality among writers in his acceptance speech, saying, "Hopefully the guild can move toward getting us out of these ghettos where our animation writers are underpaid, and treat us all the same, because we are all the same."
Before Smith received the award, WGC executive director Maureen Parker announced a new annual bursary created in McGrath's name, with $5,000 awarded to a Canadian Film Centre (CFC) resident who "embodies the spirit and values of Denis McGrath." The bursary was created through the funds donated following McGrath's death in 2017 and future donations to the bursary will come with a tax credit.
Jinder Oujla-Chalmers was given the Sondra Kelly Award, which is awarded to a mid-career female writer. It comes with a $5,000 cash prize to aid in development of a self-initiated project. In her acceptance speech Oujla-Chalmers said her winning project, The Komagata Maru – about the incident where immigrants from British-ruled India were turned away at the Canadian border in 1914 and resulted in more than a dozen deaths – was a passion project "20 years in the making."
On the film side, Jeremy Boxen earned Best Feature Film for 22 Chaser and Michael McNamara won in the documentary category for Catwalk: Tales from the Cat Show Circuit. The Jim Burt Screenwriting Prize was awarded to two winners, Pat Holden for Mirsada and Amir Kahnamouee for Harbour House.
Josh Sager and Jerome Simpson won in the children's category for Wishfart, while Tim McKeon earned the prize in Best MOW and Miniseries for Odd Squad: World Turned Odd. Meanwhile, Cole Bastedo won in the tweens and teens category for Star Falls.
Alex Epstein & Lisa Hunter picked up the Best Short or Webseries award for their VR short We've Come to the End of our Time, which is an extension of Compulsion Games' VR game We Happy Few.
Image courtesy the WGC