Peter Raymont wins the Don Haig Award
The White Pine Pictures president and co-founder will be presented with a $10,000 cash prize at the 2019 Hot Docs Awards later this week.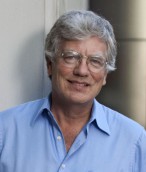 White Pine Pictures president and co-founder Peter Raymont has been selected as the 14th annual recipient of the Don Haig Award.
Selected by a jury of independent producers, the award recognizes a Canadian filmmaker's vision, entrepreneurship and commitment to mentoring emerging Canadian creatives. Set to be presented at a Hot Docs awards ceremony, the $10,000 cash prize honours a Canadian independent producer with a feature-length film screening in competition at the festival.
This year, two White Pine-produced docs will take part in Hot Docs: The Corporate Coup D'Etat from director Fred Peabody and director Phyllis Ellis' Toxic Beauty. The Corporate Coup D'Etat discusses the power corporations have in the U.S. and the widening income gap, while Toxic Beauty examines a class-action lawsuit brought against Johnson & Johnson. Raymont serves as a producer and exec producer on both projects.
As part of the award, the recipient also has the option to name an emerging female doc-maker to receive a $5,000 cash prize from Telefilm Canada and professional development opportunities from the Hot Docs Festival. This year, Raymont has selected writer/director Fazila Amiri as the recipient of this support.
Raymont has served as a producer and director on over 100 films and TV series over the course of his 48-year career. In addition to co-founding White Pine Pictures (formerly Investigative Productions), he is one of the founders of The Documentary Organization of Canada (DOC), a non-profit that represents the interests of Canadian documentary filmmakers.
Some of his credits include the 2007 Emmy Award-winner Shake Hands with the Devil: The Journey of Romeo Dallaire, A Promise to the Dead: The Exile Journey of Ariel Dorfman and Genius Within: The Inner Life of Glenn Gould. Both A Promise and Genius Within were previously shortlisted for Academy Awards.
Past Don Haig Award winners include Ina Fichman, Daniel Cross, Ed Barreveld and Anne Pick. Raymont will receive the prize at the Hot Docs Awards on May 3.
Picture courtesy of Hot Docs