Kenneth J. Harvey's Pill Factory series in development
Kafka Pictures, which has offices in L.A. and Vancouver, will produce the series along with writer Norm Hiscock.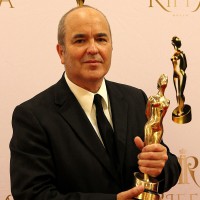 Writer and director Kenneth J. Harvey and Kafka Pictures are currently in development on a new series titled Pill Factory.
The drama series, created by Harvey, is set in an apocalyptic world where terrorists have wiped out the Earth's pharmaceutical supply. Harvey will be an executive producer on the project under his Island Horse Productions Banner alongside Kafka Pictures VP, development Jim Rapsas and CEO Alicia Kafka. Kafkas Pictures has offices in Vancouver and L.A. Rapsas, who has spearheaded development on the project, has previously produced AMC series such as Robert Kirkman's Secret History of Comics and The American West.
Writer and producer Norm Hiscock (Corner Gas, People of Earth) has also signed on to produce the project, Playback has exclusively learned. The series is currently being shopped around to potential broadcasters in the U.S., according to Rapsas.
Harvey received a 2019 Canadian Screen Awards nomination for his documentary feature Immaculate Memories: The Uncluttered World of Christopher Pratt.