Continuing Rob Stewart's legacy beyond the Sharkwater trilogy
The filmmaker's parents discuss plans to bring more Sharkwater stories to screen, and continuing the legacy their son built during his extraordinary life.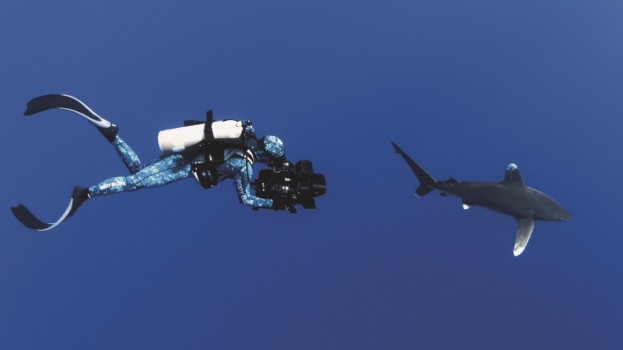 It's been more than two years since Canada lost one of its most fearless documentarians, Rob Stewart, while he was filming the third feature in his Sharkwater trilogy.
"When you lose your director, star, cinematographer, narrator and your editor all at once, most things grind to a halt and never get completed," says the filmmaker's father Brian Stewart.
But that has emphatically not been the case since February 2017, when Rob Stewart died whilst scuba diving in the waters off Key West, Florida.
In the time since his death, Sharkwater: Extinction was completed, premiered at TIFF '18 and launched theatrically. It also rolled out internationally via Amazon earlier this month and, most recently, it launched on Bell Media streamer Crave to coincide with Earth Day.
In that time, a number of causes that Rob Stewart advocated for have also moved closer to fruition. Last August, the California Drift Net Ban, fuelled by footage Rob Stewart shot, was passed by the State Legislature and signed by the Governor. As well, in November, Bill S-238, which bans Shark Fin Imports, passed through the Canadian Senate and will now move to the House of Commons.
Now, Rob Stewart's parents (alongside the team that helped bring Extinction to life), are turning their attentions toward continuing the on-screen legacy their son built during his extraordinary life.
Continuing that legacy has been made easier by the ideas that Rob Stewart left behind on his iPad. He had always been a meticulous planner, mapping out his visions for how a scene or shot would look and feel, said his mother Sandy Stewart. "To be honest, what we found on that iPad is what allowed us to finish [Extinction]. There was so much writing on there, and so many sketches, drawings, story outlines, scene creative and mind mapping. We have all of that information: it's the bible of Rob."
And while the information contained on that iPad was fundamental to completing the doc trilogy, it may also now be used now to bring more underwater stories to life.
In total, Rob Stewart and his team shot around 1,000 hours of footage while making the documentary, of which 88 minutes was used in the finished film.
"We're talking about doing everything from five-minute online interstitials to a half-hour series," said Brian Stewart of ongoing discussions about how to continue telling the Sharkwater story.
Those discussions will be kicked into a higher gear over the next couple of months as Brian and Sandy Stewart meet up with the rest of the Extinction team and take stock of which stories they want to tell, as well as which stories are viable, based on the footage they have. ("If we have to go and do some more pickup shoots to finish the story, we will," noted Brian Stewart).
Top of mind throughout the entire process will be keeping Rob's mission alive, said Sandy Stewart. "Rob had a belief that man has got to learn to live in harmony with nature and stop destroying it, and that's really what our objective will be through all the different projects," she said.