Taking The Grizzlies on tour
The team behind the film explains why they wanted to launch an exclusive northern tour for remote Indigenous communities prior to the film's nationwide release.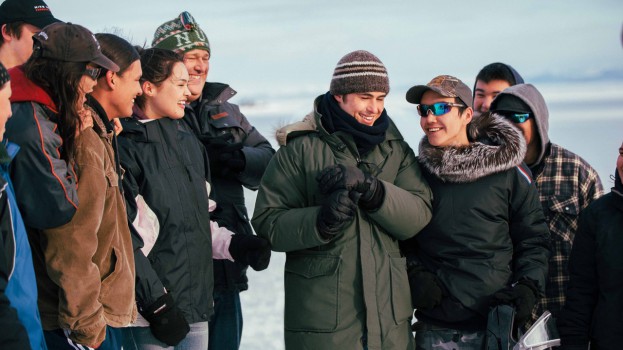 Earlier this year, the team behind The Grizzlies set out to achieve a staggering feat: screen the film in 33 remote Indigenous communities like Rankin Inlet, Igloolik and Kugluktuk.
Penned by Graham Yost and Anne with an E's Moira Walley-Beckett, The Grizzlies is based on the real-life story of a teacher who moves to Kugluktuk and ends up teaching Inuit students how to play lacrosse. So far, the film, which made its world premiere at TIFF '18, has screened in 16 communities, all prior its nationwide release in over 100 Canadian cinemas this Friday (April 19).

"This is a movie that we made specifically for our community," Inuit producer Stacey Aglok MacDonald told Playback Daily during a phone interview with director Miranda de Pencier and Inuk filmmaker and fellow producer Alethea Arnaquq-Baril. "We thought it was really important that they, as an audience, get an opportunity to watch the movie before the rest of Canada does or at least have equal access."
After trying to bring some of the film's initial financiers together to launch the initiative, de Pencier says the team ultimately decided to forge ahead on their own, hiring charity I Love First Peoples, using money from the drama's distributor Mongrel Media and their credit cards to help kickstart the engagement. "As we've been going, all of us have been reaching out to various supporters and we've been starting to raise money," she said, noting that the total cost of the tour is over $250,000.
Along the way the team has amassed funding, sponsorship and in kind support from organizations like The Shaw Rocket Fund, The Gordon Foundation, Canadian North, the Nunasi Corporation, Nunavut Tunngavik Inc., Air Borealis, Pal Air, Air Inuit and various communities, to name a few.
However, initially securing support for the tour hasn't been the only challenge the team encountered. Due to a lack of infrastructure in the North, Arnaquq-Baril explains, screenings have had to take place everywhere from high school gyms to community halls that have been transformed into makeshift movie theatres. She says the process of putting together these events has been collaborative, relying on using "a projector from one organization and speakers from another" to make it happen. "It's no mean feat," she says, noting that some screenings have been so popular that the team has had to add additional chairs and showings.
While Arnaquq-Baril acknowledges issues around bringing Indigenous-led films to communities are complex, she says the team hopes to continue highlighting distribution and access issues, encouraging distributors to educate themselves about Indigenous communities and ways to engage them. However, Arnaquq-Baril notes, all of the onus can't be put on commercial distributors in particular, since they can't solve problems that have been created because of a lack of investment in the North.
Bringing the film to these communities has also allowed the team to offer Q&As with the real-life players behind the lacrosse team, as well as the chance to openly discuss some of the issues raised in the film with mental health workers post-screening.
Looking forward, there's more to come from the team behind The Grizzlies, with several new film and TV projects in the works and an educational curriculum. Working with organizations like Hello Cool World, The Embrace Life Council, Nunavut Tunngavik Inc., We Matter, Drawing Wisdom and Red Marrow, the group has codeveloped resources that they hope will address some of the film's issues like mental health and domestic violence.
"A strong theme in the film is that communities need to be empowered to organize and do things for themselves. And that teachers who come in from the outside, often with an attitude of saving people, can be problematic as they start programs, get people excited and just bail. That can actually be more harmful sometimes," said Arnaquq-Baril. "So we have to work in ways that empower our communities to continue programs and run them themselves."
The Grizzlies was produced by Northwood Entertainment in association with Puhitaq. Producers on the project include Aglok MacDonald, de Pencier, Arnaquq-Baril, Zanne Devine and Damon D'Oliveira. The Grizzlies Northern Screening Tour's final 17 stops will take place between the end of April and June.
Image by Blake Hannahson, courtesy of Mongrel Media